Thadd Turner

(1960)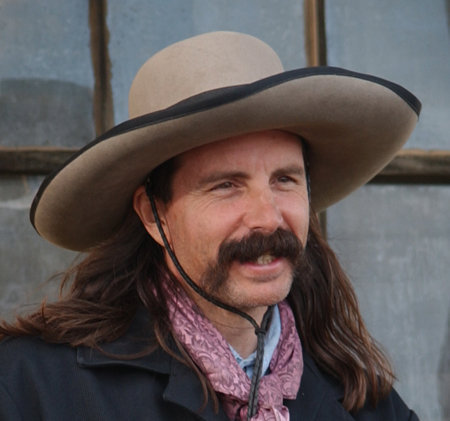 Peu connu en Europe, l'acteur, réalisateur, cascadeur et producteur Thadd Turner est un grand nom du western américain contemporain, il reçoit des distinctions en campant en 2009 Wyatt Earp dans la série Cowboys and outlaws : The real Wyatt Earp.
Ses westerns :
(A : acteur-R : réalisateur-P :producteur- C: cascades) :
1993 : Tombstone (A)
2000 : South of heaven, West of hell (A)
2003 : The long ride home (A-C)
2005 : The curse of el Charro (A) ; Miracle at Sage Creek (A-P-C) – Truce (P)
2008 : Comanche Moon (A) (minisérie)
2009 : Doc West (A-C) ; Outlaw Justice (A) ; Lost river : Lincoln's secret weapon (A) ; Cowboys & outlaws (A-C)
2012 : Clay Walker : Jesse James (A-P-R)
2015 : Palominas (A-P-R) ; The hard ride (A-P-R)
---
The long ride home
de Robert Macarelli (2003) *

Dans les années 1860, un homme affronte la justice pour retrouver sa femme et son fils.
Avec Randy Travis, Eric Roberts, Ernest Borgnine, Vaughn  Taylor, Paul Tinder, Stella Stevens, Thadd Turner (et cascades)…
Western classique dans lequel on retrouve de vieilles gloires du westerns comme Ernest Borgnine ou Stella Stevens… et de nouvelles, commel'acteur-cascadeur Thadd Turner
---
South of heaven, West of Hell
de Dwight Yoakam (2000) ***

Avec Dwight Yoakam, Vince Vaughn, Billy Bob Thornton, Bridget Fonda, Peter Fonda, Luke Askew, Bo Hopkins, Noble Willingham, Thadd Turner
Beau western realisé et joué par le chanteur de country Dwight Yoakam, qui chante Morning's losses.