L'or et la chair

(The toast of New York)  de Rowland L. Lee (1937)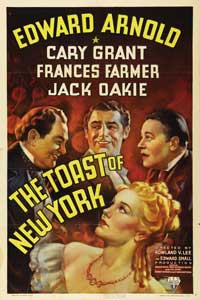 Avec Edward Arnold, Cary Grant, Frances Farmer, Jack Oakie, Donald Meek, Thelma Leeds, Russell Hicks, Clem Bevans, Virginia Carroll, Earl Dwire, Jim Mason.
J'ai un jour perdu un pari en affirmant que Cary Grant n'avait tourné aucun western. Même si c'est plus un film sur la finance, il a en effet tenu ce rôle d'un charlatan qui s'enrichit en devenant contrebandier en coton durant la Guerre de Sécession. Il tombe amoureux de la même femme -Frances Farmer- que son associé (Edward Arnold).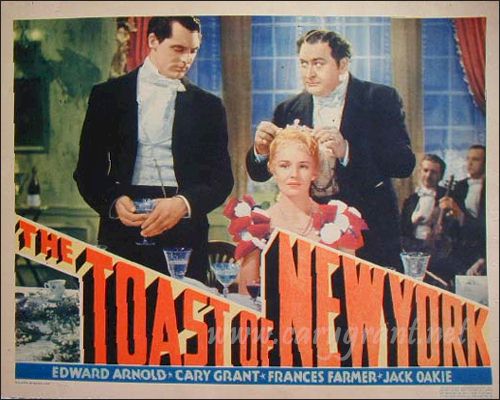 ---
VIRGINIA CARROLL (1913/2009)

Virginia Broberg, qui a débuté comme modèle à Los Angeles tourne son premier western en 1936, A Tenderfoot goes West (photo ci-contre) dans lequel apparait également son premier mari, Ralph Byrd. Un second avec Cary Grant, L'or et la chair (1937).
Suivront Oklahoma terror (1939), The phantom cowboy (1941), The masked rider (1941), Raiders of te West (1942), Prairie gunsmoke (42), Heldorado (46), Overland trails (48), Frontier agent (48), Riders of the whistling pines (49), Trail of Robin Hood (1950), Pals of the Golden West (51), Red river shore (53), L'inconnu du ranch et Spoilers of the forest (57).
---
Heldorado
de William Witney (1946)

Lors de la parade annuelle de Las Vegas, Roy aide à capturer des racketeurs de casino.
Avec Roy Rogers, George 'Gabby' Hayes, Trigger, Dale Evans, Brad Dexter, Rex Lease, Virginia Carroll, Tex Cooper, Clayton Moore…