The sundowners

(Couchers de soleil)
(1950) de George Templeton

Avec Robert Preston, Robert Sterling, Chill Wills, Cathy Downs, John Litel, Jack Elam, Don Haggerty, John Drew Barrymore
Une histoire de guerre d'éleveurs au Texas, 2e western dans lequel apparait le prolifique Jack Elam. Un de ses rares rôles où il ne joue pas un méchant.
---
The sundowners
Anglais de Fred Zinnemann (1960)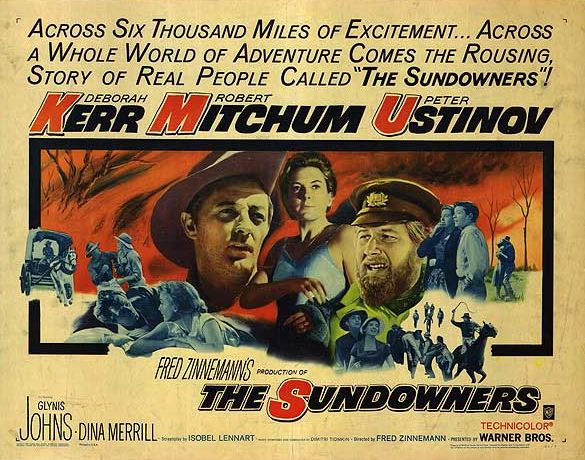 Musique de Dimitri Tiomkin
La vie quotidienne, en Australie, en 1920, d'une famille convoyant du bétail
Avec Robert Mitchum, Deborah Kerr, Peter Ustinov, Glynis Johns, Dina Merrill, Michael Anderson Jr., Lola Brooks.
Western anglais narrant la saga d'une famille de colons en Australie par le réalisateur du Train sifflera trois fois (1952). Robert Mitchum chante The wild colonial Boy. Western méconnu à redécouvrir.