Exorcisme tragique – Les monstres se mettent à table (Un bianco vestito per mariale) (Spirits of dead)
Italien de Romano Scavolini (1972)

Avec Ida Galli,  Ivan Rassimov, Luigi Pistilli, Pilar Velazquez, Ezio Marano, Gianni Dei, Bruno Boschetti, Carla Mancini
Giallo épouvante avec influences gothiques vaguement inspiré de SUEURS FROIDES d'Hitchcock : une femme est traumatisée par la vision de son père assassinant sa mère sous ses yeux durant son enfance… C'est le 5e giallo d'Ida Galli, après UN PAPILLON AUX AILES ENSANGLANTEES. Et le 6e de l'actrice de second plan Carla Mancini. Superbe musique de Fiorenzo Carpi et Bruno Nicolai.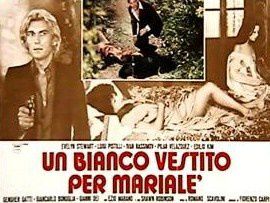 ---
Alla ricerca del piacere (A la recherche du plaisir) (Amuck !) (Hot Bed of sex) (Leather and whips)
Italien de Silvio Amadio (1972)
La secrétaire d'un écrivain découvre un complot meurtrier en recherchant son ami disparu.
Avec Farley Granger, Barbara Bouchet, Rosalba Neri, Petar Martinovitch…
Giallo hitchcockien tourné à Venise avec dans le rôle de la belle blonde américaine tombant dans un piège infernal, la magnifique Barbara Bouchet. Née en Allemagne et naturalisée américaine, elle fut remarquée par Otto Preminger, elle fera carrière en Italie notamment dans les gialli LA TARENTULE AU VENTRE NOIR, L'UOMO DAGLI OCCHI DI GHIACCIO et MAISON DE RENDEZ-VOUS. Scène homosexuelle très chaude pour elle avec Rosalba Neri.