Sammy Davis Jr. (8-12-1925/16-5-1990)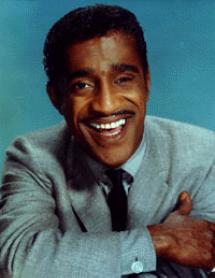 Ce célèbre acteur, chanteur et producteur faisait partie du fameux clan hollywoodien d'amis surnommé le Rat pack (littéralement « club des rats ») d'Hollywood, réunis au départ autour d'Humphrey Bogart et Lauren Bacall, puis de Frank Sinatra, et auquel appartenaient aussi Dean Martin, Joey Bishop et Peter Lawford.
Il est apparu avec eux dans un western, il commence par jouer dans  un épisode de Zane Grey Theater en 1959 et de Lawman en 61, un premier western avec Sinatra et Dean Martin en 1962 : Les 3 sergents, un épisode de L'HOMME à LA CARABINE (62) et des Les mystères de l'Ouest en 66, puis sans ses copains le téléfilm western THE TRACKERS avec Ernest Borgnine en 1971, et enfin un second rôle dans le méconnu Gone with the West (1975) avec James Caan.
---
Gone with the West (Bronco Busters) de Bernard Girard (1975) 
Avec James Caan, Stefanie Powers, Aldo Ray, Sammy Davis Jr., Barbara Werle, Robert Walker Jr., Heather Angel
Un homme sorti de prison (James Caan) prépare sa vengeance contre l'homme qui a tué sa famille des années plus tôt.
Western au goût d'inachevé, avec James Caan, un des stars d'El Dorado en 1967.