Bobby Darin

(14 mai 1936/20 décembre 1973)

Chanteur et acteur né dans le Bronx, il a été marié à Sandra Dee et eut un fils avec elle, Dodd.
Il a joué dans 27 films et séries, dont des westerns, la série La grande caravane en 1964, il était l'ex-major confédéré redevenu shérif à Abilene, défenseur des fermiers contre les éleveurs dans Le shérif aux poings nus (1966). Il était la vedette en 1961 de LA BALLADE DES SANS-ESPOIRS de John Cassavetes, qui lui avait aussi donné un rôle dans SHADOWS.
Bobby Darin partageait avec Sandra Dee l'affiche de CHAMBRE à PART (1965), une comédie de Richard Thorpe.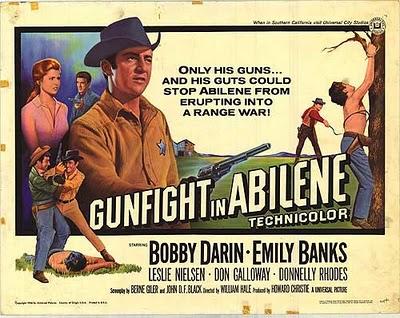 Bobby Darin chante If I were a carpenter

Bobby chante Amy dans Le shérif aux poings nus

——————————————-
Sandra Dee (23-4-1942/20-2-2005)
Cette belle du New Jersey est modèle à 12 ans, puis joue dans des publicités et enfin au cinéma à 14 ans, elle épouse en 1960 le chanteur (et acteur) Bobby Darin, qu'elle quitte en 1967, alors que sa carrière décline.
On reparlera d'elle à l'occasion de la sortie de GREASE en 1978, elle ne jouait pas dans le film mais était évoquée dans la chanson Look at me, I'm Sandra Dee… Et fera un come-back dans un épisode de la série FRASIER en 1994. Elle a souffert d'anorexie toute sa vie.
Sandra Dee a joué dans les westerns Le bagarreur solitaire (The wild and the innocent) (1959) avec Audie Murphy, et Les filles de Joshua Cabe, un téléfilm de 1972 avec Lesley Ann Warren.