BUCK TAYLOR (13 mai 1938)

Fils de Dub Taylor, Buck Taylor est connu pour son personnage de Newly O'Brien dans la série Gunsmoke. Son mentor et meilleur ami était James Arness. Il a joué -et continue de le faire- dans de nombreux westerns dont les séries La grande caravane, Zane Grey Theater,  Bonanza,Have gun – will travel, Le Virginien et La grande vallée.
Doit jouer dans Palominas et The hard ride, de films de Thadd Turner prévus pour 2015.
1976 : Pony express rider ; Doc Hooker's bunch (avec son père)
1978 : Beartooth ; Kate Bliss and the Ticker Tape kid ; The Busters (TV)
1979 : The Sacketts (Duel à Santa Fé)
1981 : Bill Doolin le hors-la-loi (Winchester et longs jupons)
Le justicier solitaire
1983 : Le triomphe d'un homme nommé Cheval
1984 : No Man's Land
1985 : Wild horses ; The all American cowboy


1986 : Dream West (minisérie) ; A travers les plaines sauvages (86)
1987 : The Alamo : Thirteen Days To Glory ; Tueur du futur (TV) ; La vengeance du forçat ; Proud Men (TV)
1989 : Desperado : the outlaw war (TV)
1990 : Big Bad John de Burt Kennedy
1991 : Conagher (TV)
1993 : Gettysburg ; Tombstone
1997 : Rough riders (1997) TV
1999 : Wild Wild West ; L'ange de l'amour (TV)
2000 : Comanche ; Jericho
2002 : Grand Champion
2003 :Gods and generals
2004 : Alamo ; Frontier Texas ; Dans le droit chemin 
2005 : Truce ; Hell to pay avec James Drury ; Miracle at Sage creek
2011 : Cavale aux portes de l'enfer ; Cowboys et envahisseurs
---
A travers les plaines sauvages (Louis L'Amour's down the Long Hills)
Téléfilm de Burt Kennedy (1986) **
Betty Sue and Hardy, deux adolescents, qui ont échappé à une attaque d'Indiens, traversent le désert de l'Utah pour rejoindre le père du garçon.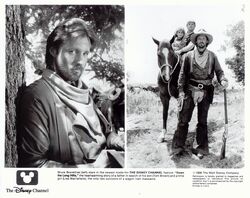 ---
Desperado : the outlaw wars
Téléfilm de E.W. Swackhamer (1989) **


Avec Alex McArthur, Richard Farnsworth, James Remar, Brad Dourif, Debra Feuer, Geoffrey Lewis, Buck Taylor, Shannon Tweed.
Duell McCall rend visite à une vieille amie, Nora, qui a donné naissance à son enfant. Il veut rester auprès d'elle mais est un homme dont la tête est mise à prix…
Très bon western des années 1980 –rare à cette époque- de l'Universal tourné à Mescal (Arizona), suite de Desperado : avalanche at Devil's ridge. Avec en vedette le célèbre acteur-cascadeur Richard Farnsworth.