DALE ROBERTSON
(14-7-1923/27-2-2013)


Héros des séries western Tales of Wells Fargo et du Cheval de fer, Dale Robertson a été la vedette de nombreux westerns, il en a tourné deux avec Linda Darnell : Les rebelles de Fort Thorn (1950) et Guet-apens chez les Sioux (Dakota incident) (1956)
Sa ressemblance avec Clark Gable l'a aidé à s'imposer. Suite à un accident en voulant sauver sa fille rampant au milieu de ses chevaux sauvages, dans son ranch, il reçoit une rouade en plein genou et s'évanouit. Il sera opéré et continuera malgré tout à tourner, même si monter à cheval sera pour lui un supplice. Dans les westerns, il joue les rôles de :
Jesse James dans L'Homme de Kansas City (1949)
Lem dans Two Flag West (Les rebelles de Fort Thorn) (1950)
Will dans La piste des caribous (50)
Narrateur dans The secret of convict Lake (1951)
Une fille en or (1951)
Sam Crockett dans Return of the Texan (1952)
John Oakhurst dans Les bannis de la Sierra
Race Crim dans The silver Whip (1953)
Brett Stanton dans City of bad men (53)
Cap. Colby dans The gambler from Natchez (54)
Major Parrish dans Sitting Bull (54)
Jagade dans 24 heures de terreur (56)


John Banner dans Guet-apens chez les Sioux (56)
Shérif Wells dans Hell Canyon Outlaws (57)
Juge Rogers dans Condamné à être pendu (64)
Wade Cooper dans La flèche sanglante
Jim Brady dans Diamond Jim : Skulduggery in Samantha 1965)
Voix du héros de The man from Button Willow (1965)
Calhoun dans Scalplock (1966) (téléfilm – 1966)
Juge Parker dans The last ride of the Dalton gang (1979)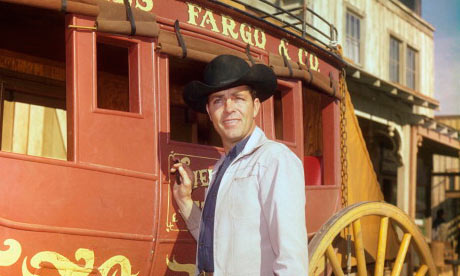 ---
L'homme de Kansas City de Edwin L. Marin (1949) avec Randolph Scott
, Bill Williams, Victor Jory, Jane Nigh,

Douglas Kennedy

,

Joan Taylor

,

Rhys Williams

,

Paul Fix

,

Dale Robertson

, James Griffith, Gregg Barton

Scott joue un ancient bandit qui devient marshal d'une ville du Kansas, qu'il va nettoyer de sa vermine, avec l'aide de son vieux copain, Jesse james ; un western dans la lignée des John Ford, et des Randolph Scott, où l'habit ne fait pas le moine : les outlaws officiels s'attaquent aux vrais méchant, qui ont parfois l'habit de la respectabilité… Premier western de Joan Taylor, qui jouera souvent des Indiennes dans les westerns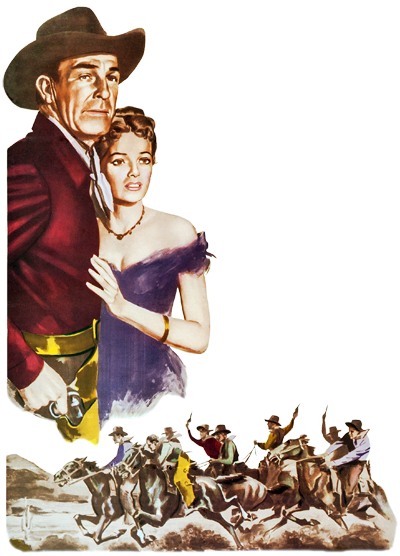 ---
Sitting Bull
Mexico-américain de Sidney Salkow (1954) 
Parrish (Dale Robertson), un ami du chef lakota Sitting Bull (J. Carrol Naish), essaie d'éviter le carnage quand Custer (Douglas Kennedy) veut faire la guerre aux Indiens à Little Big Horn. Mené ensuite devant une court-martiale, Parrish est défendu par Sitting Bull devant le Président Grant (John Hamilton)…
Et avec Mary Murphy, John Litel, Joe Fluellen, Iron Eyes Cody…
Série B dans laquelle le personage joué par Dale Robertson est purement fictif. Iron Eyes Cody dans le rôle de Crazy Horse est bien plus crédible que J. Carrol Naish dans celui de Sitting Bull mais à l'époque, les personnages principaux d'Indiens n'étaient pas joués par des Amérindiens. Douglas Kennedy joue Custer.
Le rôle de Carrol Naish dans ce film fut adapté en dessin animé par Hanna et Barbera avec le personnage de Crazy Coyote dans un 'Hucleberry Hound'
---
La flèche sanglante (Blood on the arrow) (1000 dollars pour une winchester) de Sidney Salkow (1964) Avec Dale Robertson, Martha Hyer, Wendell Corey, Ted de Corsia, Elisha Cook Jr.