La guerre des Mondes

(The war of the worlds)
de Byron Haskin (1953) 
Avec Gene Barry, Ann Robinson, Les Tremayne, Robert Cornthwaite, Sandro Giglio, Lewis Martin, Henry Brandon, Cedric Hardwicke, Rudy Lee, Chet Brandenburg, Pierre Cressoy, Carolyn Jones
Adaptation du roman de H.G. Wells narrant l'invasion de la Terre par des Martiens, racontée à la radio
Grand classique de la littérature de science-fiction (1898), adapté par les producteurs Cecil B. DeMille et George Pal. Remake en 2005 par Steven Spielberg avec Tom Cruise… et dans lequel Gene Barry tient le rôle du grand-père de ce dernier. Les deux thèmes de cette oeuvre marquée par son côté propagandiste sont ceux de la guerre et de la religion, l'invasion extraterrestre peut faire penser à celle des Allemands pendant les précédentes guerres mondiales… mais renvoie aussi au Péril soviétique, dont on craint une invasion. Les Américains vivent alors dans la phobie de la menace nucléaire et de l'espionnage, le film alimente aussi -avec d'autres- la phobie des soucoupes volantes, que l'on croit voir de partout.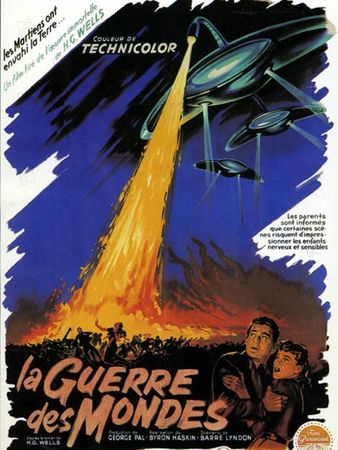 Le milieu du cinéma n'est pas épargné : on est en plein MacCarthysme. Cette violente campagne anti-communiste interdisait à certains acteurs et réalisateurs soupçonnés de sympathies communistes de travailler dans le milieu cinématographique.
Dans LA GUERRE DES MONDES, l'intelligence des Martiens est supérieure à la technologie des humains, ils se nourrissent de l'homme…
---
Gene Barry (14-6-1919/9-12-2009)
Acteur de television, il joue dans le classique de SF LA GUERRE DES MONDES (1953) (il aura le rôle du grand-père dans son remake de 2005 avec Tom Cruise) puis les western musicaux Those redheads from Seattle de Lewis R. Foster (1953) et Les jarretières rouges (1954), et Quarante tueurs (1957), il est la vedette de la série Bat Masterson entre 1958 et 1961 et a la tête d'affiche du téléfilm western horrifique The devil and miss Sarah en 1971.
Gene Barry retrouvera le personnage de Bat Masterson dans la série Le cavalier solitaire en 1989 et aussi dans le téléfilm The gambler returns : The luck of the draw (1991).