Gregg Palmer

(1927-2015)

Acteur d'origine norvégienne, il joue dans des films de SF et des westerns, dont il devient un des seconds rôles les plus réputés. Il a démarré dans le genre en incarnant Grat Dalton dans A feu et à sang (1952), puis on le verra plusieurs fois camper des officiers de cavalerie. Il décroche un rôle récurrent dans la plus longue série de l'histoire du western, Gunsmoke. Gregg Palmer joua six fois avec John Wayne : dans Les Comancheros, The Undefeated, Chisum, Rio Lobo, Big Jake et Le dernier des géants, en 1976.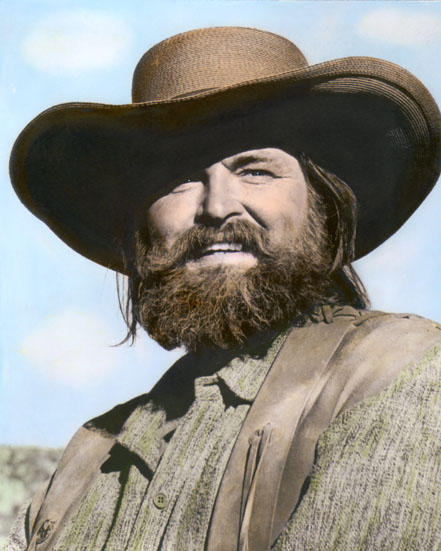 ♥ Long-métrages western :
1952 : Au mépris des lois ; L'heure de la vengeance 1953 : La belle rousse du Wyoming ; L'héroïque lieutenant 1954 : Taza, fils de Cochise 1957 : Revolt at fort Laramie
1960 : Five guns to Tombstone 1961 : Gun Fight ; Les comancheros

1964 : Feu sans sommation Le bataillon des lâches 1965 : Les prairies de l'honneur 1966 : Rancho Bravo
1969 : Smith ! de Michael O'Herily ; Les géants de l'Ouest
1970 : Cutter's trail ; Menace on the mountain ; Chisum ; Rio Lobo
1971 : Big Jake 1972 : On m'appelle Providence
1973 : Ci risiamo, vero Provvidenza ?
1976 : Les nouvelles filles de Joshua Cabe ; Le dernier des géants
1977 : Kit Carson and the Mountain Men (rôle de Jim Bridger)
1978 : La conquête de l'Ouest (minisérie) ; Go West, young girl ; True grit (téléfilm) ; Hot lead and cold feet
1982 : The blue and the gray (minisérie)
1994 : Wyatt Earp : Return to Tombstone
---
Column South (L'héroïque lieutenant)
de Frederick De Cordova (1953)
Un officier affronte un commandant impitoyable qui menace l'équilibre entre la Cavalerie US et des Indiens Navajos.
Avec Audie Murphy, Joan Evans, Robert Sterling, Dennis Weaver, James Best, Ray Collins, Gregg Palmer, Russell Johnson, Jack Kelly, Bob Steele, Denver Pyle…
---
Five guns to tombstone
de Edward L. Cahn (1960-61)
Un homme (James Brown) ayant tué accidentellement son frère qui voulait qu'il fasse un hold-up avec sa bande, est injustement accusé de vol, échappe à un lynchage et livre le chef de gang au Marshal de la ville.
Avec James Brown, John Wilder, Walter Coy, Robert Karnes, Gregg Palmer, Willis Bouchey
Les nouvelles filles de Joshua Cabe (The new daughters of Joshua Cabe)-de Bruce Bilson (1976)*

Les trois filles d'un homme injustement accusé de meurtre mènent l'enquête pour l'innocenter…
Avec John McIntire, Jack Elam, Jeanette Nolan, Louise Williams, John Dehner, Geoffrey Lewis, Bing Russell, Gregg Palmer.
Le succès, en 1972, de Les filles de Joshua Cabe engendra cette comédie western -western policier aussi- produite par Aaron Spelling et un autre téléfilm en 1975 avec le personnage de Johua Cabe (The daughters of Joshua Cabe return)…