ROYAL DANO

(16-11-1922/15-5-1994)
Royal Edward Dano Sr., avec son regard perçant, sa voix gutturale et profonde, sa haute et fine silhouette et son visage émacié, a souvent été cantonné aux personnages sinistres et inquiétants, notamment dans nombre de westerns des années 50 et 60, certains d'Anthony Mann, on le voit parfois en Indien, son premier rôle dans le genre est celui du soldat blessé de La charge victorieuse de John Huston, en 1951.
Son dernier film est un film d'horreur, LA PART DES TENEBRES en 1993, avec Timothy Hutton.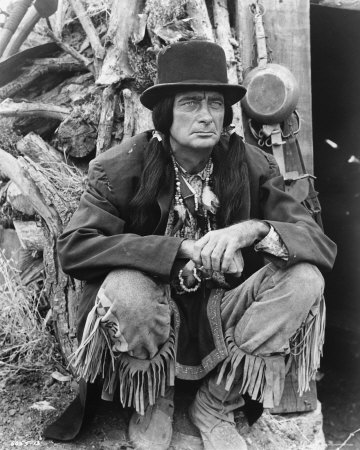 ♦ Ses autres rôles dans des westerns :
Long Tom dans Les affameurs (1952)
Abraham Lincoln dans la série Omnibus (1952)
Corey (un voyou) dans Johnny Guitare (1954)
Luke dans Je suis un aventurier (1954)
Chattez dans Cavalry patrol (1956)
Abe dans La loi de la prairie (1956)
Jameson dans Tension à Rock City (1956)
Mr Trude (conducteur de diligence) dans Femme d'Apache (1957)
Aiken Clay dans Le salaire du diable (1957)
Clay Ellison dans Libre comme le vent (1958)
Trout dans L'homme de l'Ouest (1958) d'Anthony Mann
Carmichael dans Duel dans la boue (1959) de Richard Fleischer
Ike Howes dans La ruée vers l'Ouest (1960) d'Anthony Mann

Oncle Billy dans Les cavaliers de l'enfer (1961) Underwood dans Sam l'intrépide
Ode dans La parole est au colt (1966)
Otto dans Un nommé Kiowa Jones (1966)
John dans Welcome to hard times (1967) de Burt Kennedy
Pretty horse dans Le pistoléro de la rivière rouge (1967)
Dr Pather dans Le jour des Apaches (1968) de Jerry Thorpe
Arch Brandt dans Une poignée de plombs (1969) de Robert Totten
Major Sanders dans Les géants de l'Ouest (1969) de Andrew McLaglen
Le téléfilm Run, Simon, run (1970) avec Burt Reynolds

John Brown dans Skin game (1971)
Rustler dans La poussière, la sueur et la poudre (1972) de Dick Richards
Gustavson dans La légende de Jesse James (1972) de Philip Kaufman
MacDonald dans Les cordes de la potence (1973) de A. McLaglen
Ten Spot dans Josey Wales, hors-la-loi (1976) de Clint Eastwood
Elam Hanks dans la minisérie La conquête de l'Ouest (1977-78)
Sutter dans Donner pass : The road to survival (1978)
Pa Dalton dans The last ride of the Dalton Gang en 1979
Larn Claver dans Red headed stranger (1986) de W. D. Wittliff
Nitro Jones dans Once upon a Texas train (1988) de Burt Kennedy
Et des séries :
Cimarron… 
Le cheval de fer… 
Tales of Wells Fargo… 
Le Virginien
…
Zane Grey theater
.
.. 
Rawhide
..
.
Au nom de la loi
… 
Gunsmoke… Bonanza… La grande vallée… Have gun – will travel… La grande caravane…
---
Libre comme le vent (Saddle in the wind)
de Robert Parrish et John Sturges (1958) 

Musique d'Elmer Bernstein
Un rancher se voit contraint d'affronter son propre frère…
Avec Robert Taylor, Julie London, John Cassavetes, Donald Crisp, Charles McGraw, Royal Dano, Richard Erdman, Ray Teal, Nacho Galindo…
Western méconnu de Robert Taylor, dans lequel Julie London chante Saddle the wind, elle joue la même année dans L'homme de l'Ouest avec Gary Cooper. John Cassavetes joue le frère violent de Robert Taylor, que ce dernier doit affronter.

---
Red headed stranger de William D. Wittliff (1986) 
L'histoire d'un prêcheur sur la voie de la rédemption après avoir tué sa femme et son amant.
Avec Willie Nelson, Morgan Fairchild, R.G. Armstrong, Royal Dano, Katharine Ross
Willie Nelson, co-producteur du film, adapte son très bel et nostalgique album country Red headed stranger de 1975 qui comprenait l'émouvant leitmotiv Time of the preacher. Le projet mit sept ans à voir le jour, Robert Redford fut dans un premier temps envisagé pour jouer le prêcheur, mais Willie Nelson tenait à tout prix l'interpréter lui-même. Sam Peckinpah refusa de le mettre en scène, à cause du budget trop faible. Une ville western -nommée Willieville- fut entièrement construite près du propre ranch du chanteur-producteur, vers Austin (Texas), le reste du tournage eut lieu à Spicewood, petite bourgade texane.
Le chanteur joue donc un reverend, Royal Dano, grand second rôle du western, est le méchant du film et on retrouve la jolie Katharine Ross, rendue internationalement célèbre par le western Butch Cassidy et le kid en 1969. Poignante histoire d'amour, de vengeance et de rédemption, comme seul Willie Nelson sait les chanter, voilà un excellent western, original, à voir ou revoir… en réécoutant l'album.
Trailer et chansons du film :