Quelques westerns de 2012…
Cowboy spirit
de William F. Miller (2012)
Avec Rich Manley, Ayla Brown, Jenna Laurenzo, Mike Allison, Brad Hemesath, Sheri Collins, Kim Gordon.
Le trailer : http://cowboyspirit.com/watch/cowboy-spirit-movie/
—————————————–
Cooper
de Matthew Smaglik (2012)

Une famille du Montana recherché son fils perdu dans les bois.
Avec Benjamin Dawley-Anderson, Marc Glines, Steven Michael Hilton, John Hosking.
Ce western aurait selon IMDB un budget de 6000 dollars. Très amateur alors !!!
---
Dawn of conviction
de Robert Cammisa, Dennis Donovan, Patrick Hendrickson, Matthew Petterson (2012)

Les exploits du gang de Londres, dans le Dakota des années 1880…
Avec Vanessa Bartlett, Patrick Ginnety, Cody Jones, Walker hare, Jim Kent.
---
War flowers
de Serge Rodnunsky (2012)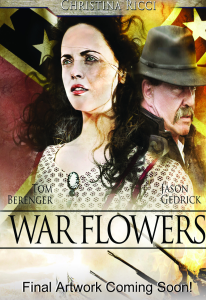 La vie d'une adolescente, Melody, et de sa mère Sara-Beth, dans la Caroline du Nord, en 1863, alors que la guerre fair rage.
Avec Jason Gedrick, Tom Berenger, Christina Ricci, Brian Balzerini, Jordan Brun, Christina Ricci.
Budget de 5 millions de dollars, belles reconstitutions de batailles.
---
Gang of roses 2 : next generation
de Jean-Claude La Marre (2012)

Avec Charli Baltimore, Gabriel Casseus, Lamont Clayton.
'Black' western, suite de Gang of roses (2003) du même réalisateur.
---
Dead man's burden
de Jared Moshe (2012) ***

Quelques années après la guerre de Sécession, une compagnie minière convoite les terres d'une famille du Nouveau Mexique
Avec Barlow Jacobs, Clare Bowen, David Call, Joseph Lyle Taylor, Richard Riehle, Jerry Clarke…

Beau western, magnifiques paysages et prises de vues, avec des cadrages fordiens.

---
Heathens and thieves
de Megan Peterson, John Douglas Sinclair (2012)

La route de justiciers et d'un gunman converge vers le ranch d'un Chinois dont ils croivent qu'il possède de l'or…
Avec Andrew Simpson, Gwendoline Yeo, Don Swayze, Richard Doyle…
Bon petit western qui réserve un suspense prenant.
---
West of thunder
de Jody Marriott Bar-Lev, Steve Russell (2012)

1899. Un mystérieux étranger arrive dans la réserve de Lakota Pine Ridge…
Avec Dan Davies, Clifford Henry, Corbin Conroy, Steve Garcia, Larry Swalley, .
Western teinté de surnaturel sur le peuple Lakota, neuf ans après le massacre de Wounded Knee.