Burt Kennedy
(1922-2001)
Westerns :
1961 : The Canadians. Et scénario.
1961 : Lawman (série) ; Le Virginien (série)
1964 : A l'Ouest du Montana. Et scénario.
1965 : Le mors aux dents. Et scénario.
1966 : Le retour des sept
1967 : Welcome to hard times. Et scénario.
1969 : Ne tirez pas sur le shérif / Un homme fait la loi / La vengeance du shérif. Et scénario.
1970 : Un beau salaud. Et prod.
1971 : Les dynamiteros / Tueur malgré lui. Et prod. / Un colt pour trois salopards. Et scénario.
1973 : Les voleurs de trains. Et scénario.
1974 : Six colts et un coffre (téléfilm) ; Sidekicks (téléfilm). Et prod.
1976 : L'enfer des Mandigos
1976-77 : La conquête de l'Ouest (minisérie)
1978 : Kate Bliss and the Ticker tape kid (téléfilm)
1979 : The wild wild West revisited (téléfilm)
1980 : More wild wild West (téléfilm)
1986 : A travers les plaines sauvages
1987 : The Alamo : thirteen days to glory (téléfilm)
1988 : Once upon a Texas train (téléfilm). Et prod./scénario.
1989 : Where the Hell's that gold ? (téléfilm). Et prod/scénario.
1990 : Big bad John. Et scénario.
2000 : Comanche. (docu-drama). Et scénario.
Scénarios de films seulement :
1956 : Sept hommes à abattre
1956 : Légitime défense
1957 : L'homme de l'Arizona
1958 : Sur la piste des Comanches ; L'aventurier du Texas
1959 : La chevauchée de la vengeance ; Le géant du grand Nord
1960 : Comanche station
1962 : Six chevaux dans la plaine
1967 : Le justicier de l'Arizona
1968 : Micmac au Montana
Polars :
Piège au grisbi (1965) ; The killer inside me (1976)
---
Le mors aux dents (The rounders) (Nebraska)
De Burt Kennedy (1965)
Ben (G. Ford) et Salut (H. Fonda) sont deux dresseurs de chevaux sauvages, ils domptent les mustangs et rassemblent les troupeaux égarés, font des rodéos.
Parmi les chevaux que Ed Love (Chill Wills) leur a confiés, l'un d'eux est nerveux et semble indomptable. Ben s'est pourtant juré d'en venir à bout… Deux soeurs s'intéressent aux cow-boys, mais ni Ben ni Salut n'ont envie pour l'instant de s'installer…

Images d'un western peu connu (et pour cause, ce n'est pas le meilleur Burt Kennedy) réunissant Glenn Ford et Henry Fonda…
Et Sue Ane Langdon, Hope Holiday, Chill Wills, Kathleen Freeman, Joan Freeman, Edgar Buchanan, Denver Pyle, Barton MacLane, Peter Fonda, Warren Oates, Peter Ford, Chuck Roberson.
C'est un western moderne, car il se déroule au XXe s., mâtiné de comédie, mais on y retrouve, outre les deux stars principales, des habitués du genre comme Edgar Buchanan (qui joue souvent des juges), Chill Wills ou Warren Oates.

Le dernier western (Once upon a Texas Train)
Téléfilm de Burt Kennedy (1988)
Avec Willie Nelson, Richard Widmark, Shaun Cassidy, Angie Dickinson, Royal Dano, Jack Elam, Chuck Connors, Ken Curtis, Gene Evans, Dub Taylor, Stuart Whitman, Clare Carey, Harry Carey Jr., Hank Worden, Red West.
Réunir le chanteur de country Willie Nelson et le vétéran Richard Widmark est un pari audacieux et réussi par Burt Kennedy, d'autant plus qu'on y retrouve la belle Angie Dickinson… et de nombreuses vieilles gloires du western comme Stuart Whitman ou Hank Worden, acteur fétiche de John Ford, dont c'est l'avant-dernier western. Et c'est le dernier western de Gene Evans, qui jouait le père dans la série MON AMIE FLICKA. Et un des derniers westerns de Red West, acteur et cascadeur ami proche ami d'Elvis Presley, mort en 2017. Dernier est donc un bon qualificatif pour la VF de ce western !
Suite de La vieille garde reprend du service (1970).
---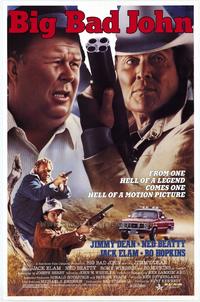 Un jeune couple aide une jeune fille à fuir son tyrannique beau-père.
Avec Jimmy Dean, Jack Elam, Ned Beatty, Jeff Osterhage, Ned Vaughn, Romy Windsor, Bo Hopkins, Buck Taylor, Hank Worden
D'après la chanson populaire de Jimmy Dean de 1950, dernier western (contemporain) dans lequel apparait Hank Worden, c'était le demeuré de La prisonnière du désert en 1956. Réalisé par un solide artisan du genre, Burt Kennedy.