QUELQUES WESTERNS DE 2014
Wichita-de Nicholas Barton (2014) 

Un convoyeur de bétail, un fugitif et un chasseur de primes se croisent à Wichita.
Entre western et film noir, l'intrigue se déroule à Wichita en 1882.
Avec Justin France, Karina Wolfe, Blake Webb, Reylynn Caster, Delno Ebie
---
Drunktown's finest

de Sydney Freelan (2014)

Trois jeunes Natifs Américains tentent d'échapper aux dures conditions de vie dans une petite reserve indienne.

Avec Jeremiah Bitsui, Carmen Moore, Morning Star Wilson, Tailinh Agoyo, Loren Anthony, Shauna Baker, Pierre Barrera, Amber Dawn the Robe, Magdalena Begay, Shaundene  Begay.

Comédie dramatique très réussie co-produite par Robert Redford, qui montre les conditions de vie actuelle de la jeunesse dans les Réserves indiennes, avec la jeune generation d'acteurs Natifs américains, dont la magnifique Shauna Baker.
Sélection officielle du Sundance Festival de 2014.

---
The Virginian
Canadien de Thomas Makowski (2013-2014)

Avec Victoria Pratt, Ron Perlman, Brendan Meyer, Trace Adkins, George Canyon, Guy Villeneuve…
Ce film n'est apparemment sorti qu'en DVD. Assez décevant.
---
Stranded (Doc Holliday's revenge) de David de Coteau (2014)

Avec William McNamara, Eric Roberts, Tom Berenger, Ashley Hayes
Petit budget (1 million de $) pour ce western sur Doc Holliday, un personnage entré dans la mythologie du Far West, qui captive les réalisateurs et producteurs fans de westerns, depuis La poursuite infernale de John Ford. Le réalisateur David de Coteau (116 fictions réalisées !) a mis le pied à l'étrier du cinéma grâce à Roger Corman dans les années 80, logiquement beaucoup de films d'horreur dans sa filmo, dont un western surnaturel en 2012 : 1313 : Billy the Kid
---
Jauja  (Argentine-Danemark-France-Mexique- USA- Allemagne- Brésil- Pays-Bas) de Lisandro Alonso (2014)

Avec Viggo Mortensen, Diego Roman, Ghita Norby,
1882. Le capitaine Dinesen part occuper un poste d'ingénieur dans l'armée argentine. Une campagne génocidaire a lieu contre la population indigène de la région. Ingebord, la fille de l'officier, tombe amoureuse d'un soldat et tous deux s'enfuient dans la nuit. Dinesen s'enfonce en territoire ennemi pour retrouver le couple en fuite… Un petit air d'Au coeur des Ténèbres pour ce western se situant dans la Patagonie de 1882, une production associant huit pays dont la France, et tournée dans les magnifiques paysages du Rio Negro en Argentine, ainsi qu'au Danemark. Un film qui confirme le goût de Viggo Mortensen pour le western, qui fut présenté au Festival de Cannes 2014. Sortie en France en avril 2015.
---
Das finster Tal
Autriche-Allemagne de Andreas Prochaska (2014)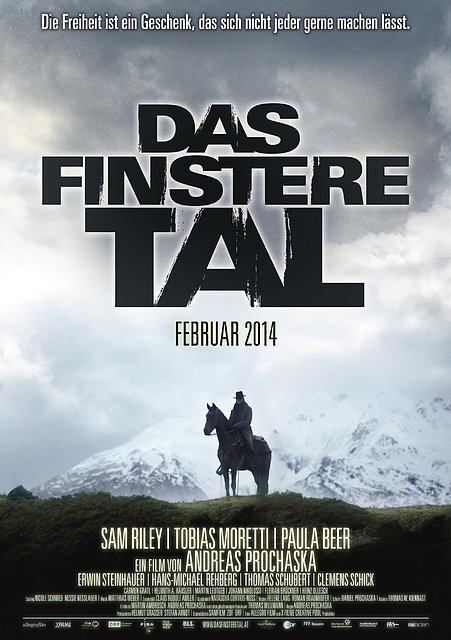 Un cavalier solitaire arrive dans une ville de montagne dans les Alpes. Il vient exhumer un lourd secret…
Avec Sam Riley, Tobias Moretti
Western européen tourné en Italie se déroulant dans les Alpes qui a été comparé au Grand silence… et qui a reçu de bonnes appréciations parmi ceux qui l'ont vu sur Internet.