John War Eagle

(Chief John War Eagle) (Chief John Eagle)

(8-6-1901/7-2-1991)
 Prolifique acteur Sioux du sud Dakota, de la réserve de Yankton, débute comme figurant dans les années 40, il campe des indiens comme Black Cloud dans Le sabre et la flèche (1953) d'André de Toth et dans de nombreuses séries western, il a plusieurs fois interprété Red Cloud.
Westerns :
The golden West (1932) ; Oregon trail scouts (1947) ; Le petit train du Far West (1950) ; Annie, la reine du cirque (1950) ; Winchester 73 (50) ; La flèche brisée (50) ; Tomahawk en 1951 Quand les tambours s'arrêteront (1951) ;Le dernier bastion (51) ; Convoi de femmes (1951) et dans Au pays de la peur (52) ; Les clairons sonnent la charge (52) ; Laramie Mountains (52) ; La dernière flèche (52) ; Ambush at Tomahawk Gap (53) ; L'aventure est à l'Ouest (53) ; Saginaw trail (53)


… Le chef Quanah (Parker ?) dans They rode West (54) ; chef War Cloud dans The Black Dakotas (54) ; L'homme de la plaine (1955) ; Sur la piste de l'Oregon (56)  ; La poursuite fantastique ; il est Sitting Bull dans Tonka (1958) ; L'Indien (1970) ; Quand meurent les légendes (1972) de Stuart Millar, puis A la recherche des Dieux (1975), Tales of Nunundaga (76)…
---
La poursuite fantastique (Dragoon Wells Massacre) de Harold D. Schuster (1957) 
1860. Link (Barry Sullivan) et Tioga (Jack Elam) sont conduits en voiture cellulaire vers le lieu de leur pendaison… Ils vont traverser un territoire indien avec un officier qui a survécu à une attaque indienne.
Et avec Dennis O'Keefe, Mona Freeman, Katy Jurado, Sebastian Cabot, Casey Adams, Trevor Bardette, Hank Worden, John War Eagle…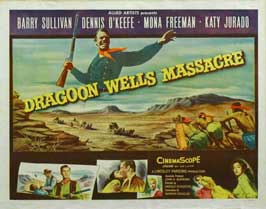 Dynamique réalisation de Harold Schuster et belle photographie de William Clothier : ce sont les principales qualités de ce western où l'on retrouve Katy Jurado, Barry Sullivan n'a pas la trempe d'un Randolph Scott mais fait correctement son métier.
---
Quand meurent les légendes (When the legends die) de Stuart Millar (1972) 
Avec Richard Widmark, Frederic Forrest, Luana Anders, Vito Scoti, Herbert Nelson, John War Eagle, John Gruber
Le jeune Indien orphelin Tom est appelé par son oncle qui veut lui donner une éducation moderne. Il est adopté par Dillon, qui veut faire de lui une vedette de rodéo…
Comme Junior Bonner et Les Centaures, un film sur le théme des rodéos… Widmark campe un vieux rodeoman alcoolo qui devient le mentor d'un jeune indien Ute. Réflexion sur la conditions des Indiens. Avec dans un second rôle l'acteur sioux John War Eagle.