Tête d'or et tête de bois (L'homme du Missouri) (The redhead and the cowboy)
de Leslie Fenton (1951) * 
Un cow-boy (Glenn Ford) tombe amoureux d'une entraîneuse de bar (Rhonda Fleming), en réalité une espionne sudiste qui le prend pour son contact. Il est accusé de meurtre…
Et avec Edmond O'Brien, Alan Reed, Edith Evanson, Morris Ankrum, Ray Teal, Iron Eyes Cody.
Premier western de Edmond O'Brien.
---
Morris Ankrum
(28-8-1897/2-9-1964)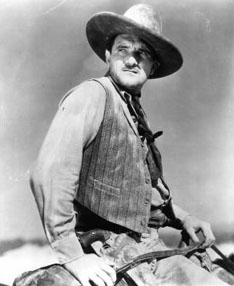 Né à la fin du XIXe s., cet avocat et professeur d'économie à l'Université de Berkeley se reconvertit comme acteur dans les années 30, il incarnera régulièrement des Indiens ou des banquiers corrompus dans nombre de westerns avec William Boyd, Richard Dix,  Tim Holt ou Rod Cameron, des séries western aussi, on le verra également souvent dans des rôles de juge tout au long de sa carrière (comme LE FACTEUR SONNE TOUJOURS DEUX FOIS avec Lana Turner), et il se spécialise dans les films de science fiction dès les années 50.
♦ Ses westerns :
Années 30 :
Il est un assassin dans son premier du genre, la série B Hopalong Cassidy Returns (1936), puis joue dans Trail dust (36), Borderland (37), La vengeance du cowboy (1937), Au Nord du Rio Grande (1937), Rustler's Valley (37)
Années 40 :
The showdown (1940), qui est un Hopalong Cassidy, The light of the western stars (40), Buck Benny rides again (1940), Knights of the range (40), Cherokee strip (1940), Trois hommes du Texas (40), L'aventure en Eldorado (41), Dans le vieux Colorado (41), Border vigilantes (41), Pirates à cheval (1941), Terreur sur la ville (41), The roundup (41), The bandit trail (41), Deux nigauds cow-boy (1942), The Omaha trail (42), il incarne Jefferson Davis dans la bio de Andrew Johnson Tennessee Johnson (1942), Barbary coast gent (1944)… Le maître de la prairie (The sea of grass)
Années 50 :
Le désert de la peur (Une corde pour te pendre) (1951)… Tête d'or et tête de bois (51)…
L'heure de la vengeance  (1952), Hiawatha (52), Fort Osage (1952) ; c'est le chef Crowfoot dans Les tuniques rouges (53).
Il va tourner dans 11 westerns la seule année 1954 ! :  Three young texans, l'Indien Gray Eagle dans Taza, Fils de Cochise, La caravane du désert, La rivière sauvage, Quatre étranges cavaliers, The outlaw stalion, Bronco apache, Two guns and a badge, La reine de la prairie. Et la série Rintintin.
Il est le général Ramirez dans Vera Cruz de Robert Aldrich, puis enfin toujours en 54 la comédie western L'aventure fantastique, puis The silver star (55), il est Red Cloud dans Le grand chef (55) avec Victor Mature, Quand le clairon sonnera (55), Le mariage est pour demain (55), Fury at gunsight pass (56), Quincannon, Frontier scout (56), L'Homme de San Carlos (1956), The desperadoes are in town (1956), Naked gun (1956), Le pays de la haine (1957), Le carrefour de la vengenace (1957), L'Implacable poursuite (1958), Frontier gun (1958).
Il joue dans les séries  Lawman.. Cheyenne… Rawhide, Gunsmoke, Bonanza, Have gun – will travel, La grande caravane, Tales of Wells Fargo...
Son dernier film est un western avec Kurt Russell gamin et Charles Bronson, Le Californien, de Boris Sagal, en 1965.