Ray Corrigan (Ray 'Crash' Corrigan) (1902-1976)
Culturiste et athlète américain surnommé Crash, cascadeur, héros de la série des 'Three Mesquiteers' et de nombreux westerns, il démarre dans des TARZAN avec un autre grand sportif, Johnny Weissmuller, et dans le western SF L'empire des fantômes (1935) avec Gene Autry pour la première fois en vedette. Puis il tournera dans des westerns de série B, souvent sous la direction de George Sherman…
1935 :
The singing Vagabond
1936 :
Zorro l'indomptable ; The three Mesquiteers ; Ghost-town gold ; Roarin' lead
1937 :
The riders of the Whistling Skull ; Round-up time in Texas ; Hit the saddle  ; Come on, cowboys ; Caravane de l'enfer ; Range defenders ; Heart of the rockies ; Gunsmoke ranch ; The Trigger trio ; Wild horse rodeo
1938 :
The Purple vigilantes ; Call the Mesquiteers ; Outlaws of Sonora ; Riders of the Black hills ; Heroes of the hills ; Pals of the saddle ; Overland stage raiders ; Santa Fe Stampede ; Red river range ; The painted stallion
1939 :
The night riders ; Three Texas stars ; Wyoming outlaw ; New frontier
---
1940 : The range busters ; Rapt à l'Ouest ; West of Pinto Basin
1941 : Trail of the silver spur ; The kid's last ride ; Tumbledown ranch in Arizona ; Wrangler's roost ; Fugitive valley ; Saddle mountain round up ; Tonto basin outlaws ;  Underground rustlers
1942 : Thunder river feud ; Rock river renegades ; Boot hill bandits ; Troubles au Texas ; Arizona stage coach
1943 : Land of hunted men ; Cowboys commandos : Market rustlers ; Bullets and saddles
1946 : Renegade girl
1950 : Trail of Robin Hood
1955 : Apache ambush
1957 : Domino Kid
The three mesquiteers
de Ray Taylor (1936)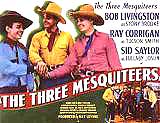 Avec Robert Livingston, Ray Corrigan, Syd Saylor, Kay Hugues, Al Bridge, Frank Yaconelli, Milburn Stone, Nina Quartero.
Les aventures de trois héros de la première guerre Mondiale… dans des histoires très western ! Le trio Robert Livingston-Ray Corrigan-Syd Saylor sera permuté par John Wayne-Max Terhune-Ray Corrigan dans les futurs films de 'The 3 Ms', populaire serial de la Republic (51 westerns jusqu'à 1943). Chanson Wagon Team chantée par Gene Autry et Smiley Burnette.
---
Red River Range
de George Sherman (1938)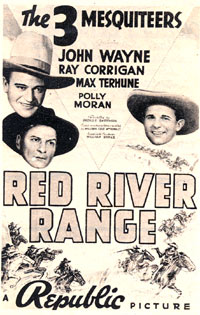 Avec John Wayne, Ray Corrigan, Max Terhune, Polly Moran, Lorna Gray, Kirby Grant, Yakima Canutt (cascadeur).
Serial des 'Three Mesquiteers', plusieurs westerns tournés avec John Wayne et Ray Corrigan en 1938-39 pour la Republic
---
Overland stage raiders
de George Sherman (1938)
Trois justiciers (les Three Mesquiteers) luttent contre des bandits qui veulent s'emparer d'une mine d'or.
Avec John Wayne, Ray Corrigan, Max Terhune, Louise Brooks, John Archer, Yakima Canutt.
Deuxième western et dernier film de Louise Brooks, elle le fit uniquement pour de l'argent. Elle aurait certainement été cataloguée dans le genre western si elle n'avait decidé, la même année, d'arrêter le cinéma… Après ça, elle travailla comme vendeuse dans un magasin, pour 40 $ la semaine…
Film complet

---
Pals of the saddle
de George Sherman (1938)


Avec John Wayne, Ray Corrigan, Max Terhune, Doreen McKay, George Montgomery, Yakima Canutt (cascadeur seulement).
John Wayne revient pour des séries B à la Republic, avec huit westerns en 1938-39 réalisés par George Sherman : il s'introduit dans le trio des « trois mousquetaires », personnages de westerns créés par le romancier William Colt Mac Donald, dans des récits qui se déroulent à une époque relativement moderne (16 westerns en tout). Suivront pour Wayne Overland stage raiders, avec Louise Brooks, Santa Fé Stampede, Red river range ; là, il obient une « permission de sortie » et tourne La chevauchée fantastique pour United Artists ; puis, retour à Republic pour le Duke
---
Ghost town Gold
de Joseph Kane (1936)
Les three Mesquiteers (trio de cow-boys justiciers) tentent de récupérer l'or volé par un gang qui veut ruiner le maire leur ordonnant de quitter la ville.
Avec Robert Livingston, Ray Corrigan, Max Terhune, LeRoy Mason, Yakima Canutt, Bob Burns, Hank Worden.

Robert Livingston, Ray Corrigan et Max Terhune étaient les héros surnommés les « three mesqueteers » de ce serial populaire des années 30, dans lequel joua aussi John Wayne.
Réalisation très moderne de Joseph Kane, spécialiste des séries B.