Paola Tedesco (1952)
Née à Rome, fille de l'acteur Sergio Tedesco, sœur du producteur Maurizio Tedesco, cover girl et actrice qui débute dans L'EVANGILE SELON SAINT MATTHIEU, elle joue une Sicilienne dans L'HOMME ORCHESTRE avec Louis de Funès, est la vedette de LADY BARBARA (1970), puis enchaîne les comédies, érotiques, thrillers et le western Il sogno di Zorro en 1975, avec Franco Franchi… Enfin, Un rôle dans le giallo Il gatto dagli occhi di giada en 1976. Quatre genres en vogue dans les années 1970 en Europe, qui ont permis à de jolies anguilles comme Paola Tedesco, de se frayer un chemin au milieu de plus gros poissons comme Edwige Fenech, Laura Antonelli ou encore Dagmar Lassander.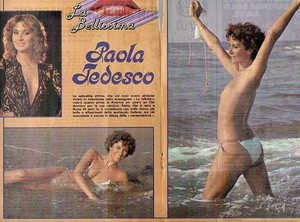 ---
 Il sogno di Zorro (Dream of Zorro) (Grandsons of Zorro)
Italien de Mariano Laurenti (1975) *

Avec Franco Franchi, Mario Colli, Gianni Musy, Ignazio Spalla, Paola Tedesco, Maurizio Arena
Un Zorro parodique italien avec un ténor du genre, Franco Franchi et la sexy Paola Tedesco, vedette de LADY BARBARA en 1970.