Règlement de comptes à O.K. Corral

(Gunfight at the O.K. Corral)
De John Sturges (1957) ****
Scénario : Leon Uris, d'après une nouvelle de George Scullin
Musique : Dimitri Tiomkin
Durée : 2h02Avec
Burt Lancaster : Wyatt Earp
Kirk Douglas : Doc Holliday
Rhonda Fleming : Laura Denbow
Jo Van Fleet : Kate Fisher
John Ireland : Johnny Ringo
Lyle Bettger : Ike Clanton
Frank Faylen : Cotton Wilson
Earl Holliman : Charles Bassett
Ted de Corsia : Shangai Pearce
Dennis Hopper : Billy Clanton
Et Whit Bissel, Martin Milner, George Matthews, Brian G. Hutton, John Hudson, Deforest Kelley, Lee Van Cleef. Et  Lynn Borden (doubleuse de R. Fleming et Jo Van Fleet).
Le combat du sheriff federal Wyatt Earp, de ses frère et de Doc Holliday contre le clan des cowboys d'Ike Clanton, jusqu'au fameux réglement de comptes de O.K. Corral.
Même si elle prend beaucoup de liberté avec la vérité historique, cette version des événements de OK Corral est la meilleure. Une perfection dans la mise en scène, un parfait tempo, une direction d'acteurs extraordinaire, l'éternelle balade de Frankie Laine, qui raconte en ponctuant la fin de chaque scène, et la rencontre au sommet de Kirk Douglas et Burt Lancaster. Bogart était pressenti pour le rôle de Doc Holliday, le virtuose de la gâchette. La révélation du film est Dennis Hopper, dans le rôle du jeune Billy Clanton, que tue Wyatt Earp lors de la fusillade, d'excellents seconds rôles aussi comme DeForest Kelley.
Dans le film, la fusillade finale dure 30 secondes, 34 coups de feu, dans la réalité : 5 minutes et 4 jours de tournage, comme le précise Kirk Douglas dans ses mémoires.
Sur le tournage -comme dans le film-, Kirk Douglas et Burt Lancaster deviennent de grands amis. Le film est un succès commercial.
John Sturges retrouvera le compositeur Dimitri Tiomkin, les acteurs Kirk Douglas et Earl Holliman pour LE DERNIER TRAIN DE GUN HILL sorti en 1959.
———————————————–
DeForest Kelley (De Forest Kelley) (DeForest Kelly)
(1920/1999)

Deforest Kelley est célèbre pour son rôle de l'amiral McCoy dans la saga
STAR TREK
. 
C'est un épatant second rôle dans de nombreuses séries western, comme The lone ranger, Zane Grey Theater, Laredo, Tales of Wells Fargo, Have gun – will travel
,
 Gunsmoke, Rawhide, The Deputy, Au nom de la loi, Lawman, Le Virginien, Laramie
ou encore Bonanza
…
et dans plusieurs long-métrages, souvent signés R.G. Springsteen :
Tension à Rock City (1956) de C. M. Warren
Il campe Morgan Earp dans Règlement de comptes à O.K. Corral (1957) de John Sturges.
L'arbre de vie (1957) d'Edward Dmytryk
Le trésor du pendu (58) de John Sturges.
L'homme aux colts d'or
(59) d'Edward Dmytryk
Duel au Colorado (63) de Frank McDonald
Les éperons noirs (64-65) de R.G. Springsteen
Quand parle la poudre (65) de Lesley Selander
Sur la piste des Apaches (65) de R.G. Springsteen
La loi des hors-la-loi (66) de R.G. Springsteen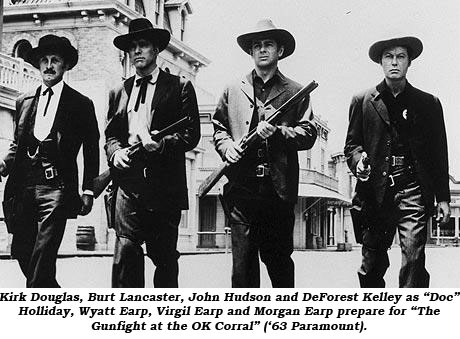 Quand parle la poudre (1965)