Remember Marty Robbins

… (1925-1982)
Populaire chanteur de country music, acteur, compositeur, producteur et pilote de course automobile, c'est avec Frankie Laine une des grandes voix du western. On entend ses chansons dans de nombreux films, dont La colline des potences (1959), The Ballad of a gunfighter (64), MOONFIRE (70), Guns of a stranger (73), Honkytonk man (82).
Comme acteur, on l'a vu dans The badge of Marshal Brennan (57), L'ultime chevauchée (57), Country Music Jubilee (60), Buffalo Gun (61), 30 minutes at Gunsight (63), The Ballad of a gunfighter (64), la série The Drifter (65), qu'il a aussi produit, tout comme Guns of a stranger (73), et enfin Honkytonk Man (82).
Un de ses tubes les plus fameux est El Paso en 1960, qui fut N°1 dans les charts de pop et de country.
 
Le thème de La colline des potences :

---
Buffalo gun
de Albert C. Gannaway (1961) **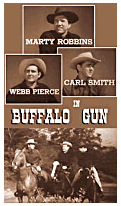 Avec Marty Robbins, Webb Pierce, Carl Smith, Wayne Morris, Don 'red' Barry, Mary Ellen Kay, Douglas Fowley, Eddie Little Sky
Tourné en 1957 mais sorti seulement en 1961, ce western a comme vedette le chanteur de country Marty Robbins (dont le tube El Paso cartonnait à cette époque), c'est le dernier western de Wayne Morris, vedette de B-westerns des années 40-50. On y retrouve aussi quatre membres des Jordanaires (Gordon Stoker, Neal Matthews Jr., Hoyt Hawkins et Hugh Jarrett), célèbre groupe de musiciens dont étaient issus les choristes d'Elvis Presley.