Casa de mi padre (2012) ** de Matt Piedmont avec Will Ferrell, Diego Luna, Pedro Armendariz Jr.
Clay Walker : Jesse James (2012) de Thadd Turner
Cole Younger & The Black Train  (2012) de Christopher Forbes avec Cody McCarver, Michael Madsen.
Cooper (2012) de Matthew Smaglik avec Benjamin Dawley-Anderson.
Cowboy Spirit (2012) de William F. Miller avec Rich Manley.
Danger falls (2012) de Gabriel Manwaring.
Dark Canyon (2012) de Dustin Rikert avec Ernie Hudson, Abraham Benrubi.
Dawn of conviction (2012) de Robert Cammisa, Dennis Donovan, Patrick Hendrickson, Matthew Petterson. Avec Vanessa Bartlett, Patrick Ginnety.
Dead's Man Burden (2012) *** de Jared Moshe avec Barlow Jacobs, Clare Bowen.

Django unchained de Quentin Tarantino (2012) avec Jamie Foxx, Bruce Dern : Voir à 2013.
El coyote (2012) USA/Mexique de Sergio Coyote et Damian Rodriguez avec Sergio Coyote.
Gallowalker (2012) de Andrew Goth avec Wesley Snipes
Gang of roses 2: Next Generation (2012) de Jean-Claude La Marre avec Charli Baltimore..
Gunfight at Yuma (2012) de Alveraz Ricardez avec Joe Estevez
Hannah's law (2012).
Hatfields and McCoys : Bad blood (2012) * de Fred Olen Ray avec Christian Slater.
Hatfield & McCoys (2012) *** Mini-série en 3 parties de Ted Mann, coproduite par Kevin Costner, avec ce dernier et Bill Paxton, Tom Berenger. (History Channel).
Hatchet country (2012) western horrifique de Adam Hulin
Heathens and Thieves (2012) ** de Megan Peterson, John Douglas Sinclair avec Andrew Simpson, Don Swayze
La première chevauchée de Wyatt Earp (2012) * de Michael Feifer avec Val Kilmer.
Le cavalier de l'aube (Dawn rider) (2012) ** Téléfilm canadien de Terry Miles avec Christian Slater, Jill Hennessy, Donald Sutherland.
Lincoln (2012) *** de Steven Spielberg (20th Century Fox).Avec Tommy Lee Jones, Daniel Day-Lewis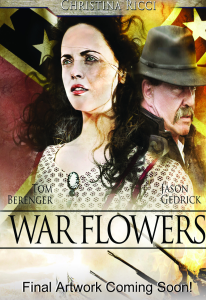 The man who shook the hand of Vicente Hernandez (2012) d'Elia Petridis avec Ernest Borgnine, Barry Corbin, Carla Ortiz.
The murder of Hi Good (2012) de Lee Lynch
The name on the bullet (2012) de James Overton
The secret of Wilson Hill (2012) de Roger Slagle avec Dennis Ambriz, Lynda Baker, Loren Clark.
The way of the spur (Shangdown, The way of the spur) (2012) Chinois de Jakob Montrasio avec Dave Akolo, Christian Bachini.
War Flowers (2012) ** de Serge Rodnunsky avec Jason Gedrick, Tom Berenger, Christina Ricci.
West of thunder (2012) de Jody Marriott Bar-Lev, Steve Russell avec Dan Davies, Clifford Henry, Corbin Conroy. Western sur le peuple Lakota, neuf ans après le massacre de Wounded Knee.