Aballay, el hombre sin miedo (2010) de Fernando Spiner
A Foundling (2010) *** de Carly Lyn avec Cindy Chiu, Tim Chiou, Nora J. Novak. Une jeune Chinoise va dans l'Ouest aider sa sœur à s'échapper d'une Maison close dans l'Arizona.
Big money rustlas (2010) de Paul Andresen avec Violent J, Shaggy 2 Dope, Tony Borcherding. Dans la bourgade de l'Ouest de Mudbug, le shérif Sugar Wolf affronte l4'outlaw Big Baby Chips…
Blackthorn (2010-2011) Espagnol de Mateo Gil avec Sam Shepard, Eduardo Noriega. Western envoûtant qui raconte, avec des flash-backs, la vie de Butch Cassidy, qui ne serait pas mort et se la coulerait douce en Bolivie…
Cavale aux portes de l'enfer (The legends of Hell's gate : an american conspiracy) (2010-2011) de Tanner Beard. Avec Michael Spears, Eddie Spears.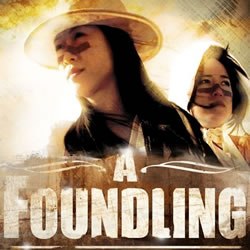 Chicogrande
(2010) Mexicain de Felipe Cazals avec Damian Alcazar, Juan Manuel Bernal.
Dead West (2012) de Douglas Myers avec Jasen Wade, Angélica Celaya, Shannon Whirry
Flicka 2 : amies pour la vie (2010) de Michael Damian
Gunless (Django gunless) (2010) de William Phillips avec Paul Gross, Graham Greene.
Ink : a tale of captivity (2010) ** de T. Sibley et A. van Buren avec Wes Studi.
Jonah Hex (2010) de Jimmy Hayward avec Josh Brolin, John Malkovitch, Megan Fox. Western développé à 2010.
Justified (2010…) Série avec Timothy Olyphant. 1ère saison : 2010. 6e saison : 2015.
La dernière piste (Meek's Cutoff) : voir à 2011.
Les colts de l'or noir (2010) Français de Pierre Romanello avec Frédéric Ferrer, Romain Bertrand, Catherine Antoniolli.
Los sietes (2010) de Sergio Goyri avec Roberto Ballesteros, Perla Encinas.
 Mad mad wagon party (2010) de Dwight Brooks avec George Kennedy.
Prairie chickens (1943) de Hal Roach Jr. avec Jimmy Rogers et Noah Beery Jr.
Prospector's : all in (2010) de Paul Bonsignore avec Nicholas Armogida, Don Baugh, David Beggs.
Prospects (2010) de Curtis Imrie et Rick Schmidt avec Sue Conroe, Rick Schmidt.
Red hill (2010) Australien  de Patrick Hugues avec Ryan Kwanteen, Steve Bisley, Tommy Lewis
Rio de oro (2010) Mexique/USA de Pablo Aldrete avec Gonzalo Lebrija, Stephane Sigman, Deshava Apachee.
River of skulls (2010) de Suza Lambert Bowser avec Trent Anderson, Aleph Ayin, Bruce D. Cole. Les aventures d'une femme lors de la ruée vers l'or de 1870
Scape (2010) de Taegen Carter avec Ben Furmaniak, Ludwig Manukian, Bree Condon… Daprès un roman de Rudyard Kipling.
Sheriff on Contention (2011) de Tom O'Mary
Silent Anna (2010) de Max Sokoloff avec Christopher Greene, Kenny New.
Single action colt (2010) de Scott Harpt avec Barbra Alloy, Marc Brink, Olivia Brunette Welz.
Snowblind (2010) de Kilian Manning
Straight to hell returns (2010) de Alex Cox avec Kathy Burke, Elvis Costello.
The last rites of Ransom Pride (2010) Canadien de Tiller Russell avec Dwight Yoakam, Lizzy Kaplan, Cote de Pablo, Jason Priestley, Kris Kristofferson, Blu Mankuma.
The line shack (2010) de John Adrian Riley avec Jon Bridell, Steven K. Easterling.
The magnificent dead (2010) de Shane Scott avec Bill Algood, Linda Almanza, Larry Amaro. Western horrifique se déroulant en 1870…
The reaping men (2010) de Jim Powers, Steve Powers
The righteous and the wicked (2010) de Craig A. Butler avec Craig Myers, Billy Garberina, Justin Tade.
The warrior's way (2010) Nouvelle-Zélande/Coréed du sud de Sngmoo Lee avec Dong-gun Jang, Geoffrey Rush, Kate Bosworth.
The wild stallion (L'étalon sauvage) (2010) avec Robert Wagner
True Grit (2010-2011) *** de Joel et Ethan Coen. Avec Jeff Bridges, Josh Brolin, Matt Damon. Western développé à 2010.
Western X (2010) de Nathan Blackwell
Yashi Bati (2010) Turc de Ömer Faruk Sorak avec Cen Yilmaz, Ozan Guven.