AS LATHAIR (2002) de Paul Rowley avec Tim Blue, Steven Oliver Price.
CHERIF (2002) de C. Heinsen, M. Lavin. Hispano-chilien avec Francisco Gomez.
Defiance (2002) de Doveed Linder
EUKALIPTUS (2002) Polonais de Marcin Krysztalowicz avec Leszek Zdybal, Dorota Stalinska.
Gangs of New York (2002) de Martin Scorsese avec Leonardo DiCaprio, Daniel Day-Lewis
GLORY GLORY (HOODED ANGELS) (2002) Britannique de Paul Matthews avec Amanda Donohoe, Steven Bauer, Paul Johansson.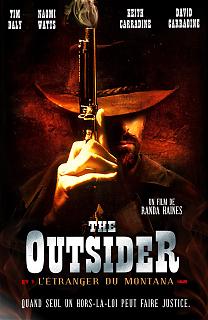 Johnson County War (2002) ** Téléfilm de David S. Cass Jr. avec Tom Berenger, Luke Perry, Burt Reynolds.
Legend of the phantom rider (2002) de Alex Erkiletian
Loco 33 (2002) de Kevin R. Hershberger
MI AMIGO (2002) de Milton Brown avec Ed Bruce, Tom Everett, Josh Holloway.
Nouveau départ (2002) *** Téléfilm de Rex Piano avec Bruce Boxleitner
Pueblo sin suerte (2002) de Beau Gillepsie
RECKONING (2002) de Jason Rodriguez avec Jason Rodriguez, Stacy Cunningham, Cheryl Lawson.
Skins (2002) avec Eric Schweig
SPIRIT : L'ETALON DES PLAINES/SPIRIT /STALLION OF THE CIMARRON (2002) Film d'animation de Kelly Asburk, Lorna Cook
TAKKARI DONGA (2002) Indien de Jayant Paranji avec Mahesh Babu.
The outsider (2002) Téléfilm de Randa Haines. Avec Timothy Daly, Naomi Watts, David et Keith Carradine.
THE TRACKER (2002) de Rolf De Heer avec David Gulpilil, Garx Sweet.
The wooden gun (2002) de Jon Jacobs
WICKED SPRING (2002) de Kevin R. Hershberger avec Brian Merrick, DJ Perry, Terry Jernigan.