Le souffle de la violence

(The violent men)

de Rudolph Maté (1955) 

Les conflits entre un ancien officier devenu paisible fermier (Glenn Ford) et un puissant propriétaire terrien (Edward G. Robinson) qui veut s'emparer de ses terres…
Et avec Barbara Stanwyck, Dianne Foster, Brian Keith, Richard Jaeckel, May Wynn, Basil Ruysdael, Lita Milan, Jack Kelly, Willis Bouchey, Edmund  Cobb, Et Richard Farnsworth.
Beaucoup d'action dans ce western avant tout psychologique, Rudolph Maté signe un duel d'anthologie et dirige un impeccable casting, dominé par l'interprétation saisissante de Edward G. Robinson, en patriarche tyrannique, Glenn Ford et Brian Keith. Tourné dans les décors mythiques des Alabama Hills et Lone Pine.
Robinson aurait remplacé au tout dernier moment Broderick Crawford, victime d'une chute de cheval en début de tournage (rumeur).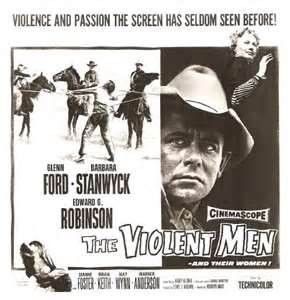 ---
Richard Jaeckel (10-10-1926/14-6-1997)




Le nom de Richard Jaeckel, grand second rôle du cinéma américain, acteur extraordinaire, est associé aux films de guerre, il servit dans la Navy entre 1944 et 1948. C'est un des pistoleros qui veut se mesurer au gunfighter Gregory Peck dans La cible humaine (1950), son tout premier western.
On le verra dans d'autres westerns notamment avec Glenn Ford : Le souffle de la violence en 55, puis le chef d'oeuvre 3.10 To Yuma et Cowboy en 1958 ; il joue dans LES DOUZE SALOPARDS d'Aldrich, qui le dirigera à nouveau dans Fureur Apache (1972).
Dans Pat Garrett et Billy Le kid, Jaeckel campe le shérif McKinney qui participe à la capture de Billy le kid.
Dans Chisum (1970), il est cette fois le compère du Kid, Jess Evans. Il a lui-même joué Billy le kid dans un épisode de Histoires du siècle dernier en 1954, et Grat Dalton dans un téléfilm de 1975.
Et dans des séries comme Lawman.. Les mystères de l'Ouest… Gunsmoke, Le Virginien, Bonanza… Have gun – will travel… Zane Grey theater...La grande caravane… Tales of Wells Fargo.
♦ Ses autres westerns :
Dangereuse mission (1950) de Reginald LeBorg
Apache Ambush (1955) de Fred F. Sears
Les rôdeurs de la plaine (1960) de Don Siegel
Quatre du Texas (1963) de Robert Aldrich
Quand parle la poudre (65) de Lesley Selander
Pat Garrett et Billy le kid (73) de Sam Peckinpah
Le poney rouge (1973) Téléfilm de Robert Totten
Le dernier jour (1975) Téléfilm de Vincent McEveety
Kit Carson and the mountain men (1977) Téléfilm/Série.
♦ Polars :
LA TOILE d'ARAIGNEE (1975)
♣ Nécrologie de Richard Jaeckel