Law and order

de Edward L. Cahn (1932)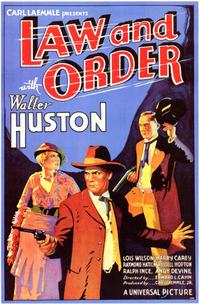 Avec Walter Huston, Harry Carey, Russell Hopton, Raymond Hatton, Ralph Ince, Harry Woods, Russell Simpson, Andy Devine, Victor Adamson, Hank Bell, Walter Brennan, Art Mix
Inspiré des exploits de Wyatt Earp, d'après le roman de W.R. Burnett, avec Walter Huston, son fils -le bientôt célèbre John- écrit en partie le scénario, mise en scène originale, c'est une série B. Premier western du réalisateur Edward Cahn et aussi d'un jeune second couteau qui va devenir un grand second rôle du genre : Andy Devine. Walter Brennan, qui jouera Ike Clanton dans La poursuite infernale en 1946, a un petit rôle, il joue la même année avec John Wayne dans Two-fisted law. Aucune femme dans les roles principaux, seulement en décor. Un western très mâle donc !
Flesh and the spur de Edward L. Cahn (1956) 
Un jeune cowboy recherche le tueur de son frère jumeau.
Avec John Agar, Marla English, Mike Connors (et co-producteur), Raymond Hatton, Maria Monay, Joyce Meadows, Kermit Maynard, Bud Osborne, Tom Steele.