BRIAN KEITH

(1921/1997)
Brian Keith est né un 14 novembre, il s'est suicidé en juin 1997, quelques semaines après le suicide de sa fille Daisy Keith. Fils de l'acteur Robert Keith et d'une actrice de théâtre, il est apparu à l'âge de trois ans dans un film avec son père.
Il a suivi la vie itinérante des comédiens ambulants, il est cantonnier dans la Marine pendant la guerre, il fait ses débuts avec Charlton Heston dans Le sorcier du Rio Grande en 1953. Il est devenu très populaire avec son personnage de célibataire new-yorkais de ONCLE BILL.
Brian Keith comptait parmi ses meilleurs amis Ernest Borgnine, Martin Landau, Burt Reynolds, Sean Connery, Michael Landon et Alfred Hitchcock, et était très proche de l'acteur James Dury, qu'il avait rencontré en 1960. Il était connu pour son engagement dans le parti républicain.
Il est Jonas, armurier ambulant qui initie le héros au tir dans Nevada Smith, et le Capitaine partisan de la négociation avec les Indiens dans Le jugement des flèches
Ses rôles dans des westerns :
Capitaine Norht dans Le sorcier du Rio Grande (1953)
Cole Wilkison dans Le souffle de la violence (55)
Capitaine Clark dans Le jugement des flèches (57)
Hell canyon outlaws (1957)
Clett dans Sur la piste des Comanches (58)
Bill Harmon dans Villa !! (1958)
Dave Blassingame dans les séries Zane Grey Theater (59) et The westerner (1960) de Sam Peckinpah
Tod Macauley dans Rawhide (59)
Whit Malone dans Laramie (59)
Bill Dunn  dans Ten who dared (1960)
Yellowleg dans New Mexico (61) de Sam Peckinpah
Johnny Wade dans la série Le Virginien (63)
Srgt Gault dans La grande caravane (63)
Johnny Shiloh (1963) Téléfilm
Beck Coates dans Sam l'intrépide (63)
J. McElory dans Les téméraires (63)
Cam Calloway dans Calloway le trappeur (1965)
Frank dans Sur la piste de la grande caravane
Alexander dans Rancho Bravo (1966)
Jonas Cord dans Nevada Smith (1966)
Colonel Morgan dans Rio Verde (1971)
Arnold Curtis dans le téléfilm The Quest (1976)
L'avocat dans The court-martial of George Armstrong Custer (téléfilm de 1977)
Shérif Dumire dans la saga TV Colorado (1978)
La conquête de l'Ouest (1978), mini-série
Andrew Blake dans la mini-série The Chisholms
Elijah dans le téléfilm The seeker (1979)
Henry Frapp dans La fureur sauvage (1980)
Davy Crockett dans le téléfilm The Alamo : Thirteen Days To Glory (1987)
Buckshot Roberts dans Young guns (1988)
Cyrus Happy dans L'équipée du Pony Express (1990)
Le Westerner dans The gambler returns : The luck of the draw (1991)
Le président McKinley dans Rough riders (1997) TV de John Milius 
Science-fiction et polars :
YAKUZA (1974) de Sydney Pollack
METEOR (1979) de Ronald Neame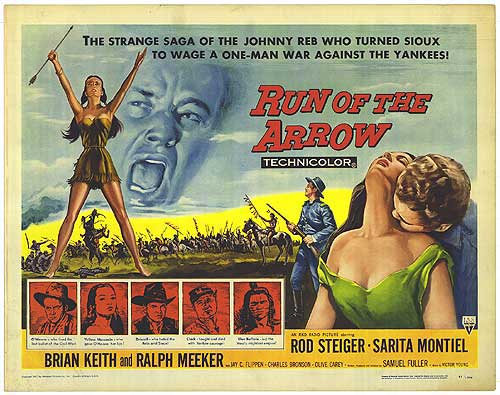 ---
Ten who dared de William Beaudine (1960) 
Production Disney
Le major Powell mène une expedition à travers le grand Canyon pour passer la rivière Colorado.
Avec Brian Keith, John Beal, James Drury, R.G. Armstrong, Ben Johnson, L.Q. Jones, Dan Sheridan.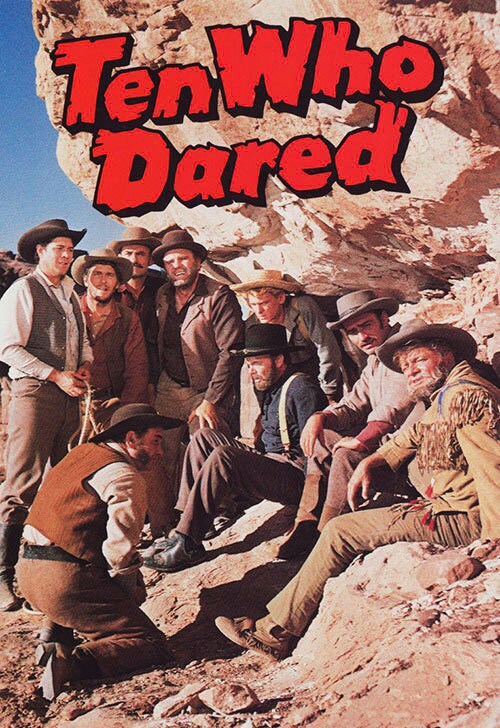 La fureur sauvage (The Mountain Men) (Wind River)
De Richard Lang (1979-80)


Scénario : Fraser Clarke Heston
Musique : Michel Legrand-Photo : Michel Hugo
Avec Charlton Heston (Bill) ; Brian Keith (Henry) ; Victoria Racimo (Running Moon/Moineau bleu) ; Stephen Macht (Heavy Eagle/Œil d'aigle)
Et David Ackroyd, Cal Bellini, John Glover, Victor Jory, Inga Swenson
Bill et Henry, deux amis trappeurs combattent les Indiens, les trafiquants d'alcool et les loups pour atteindre une vallée légendaire où abondent les castors… Bill va tomber amoureux d'une squaw, ils vont être poursuivis par le chef pied-noir qui veut récupérer sa belle
Depuis Au-delà du Missouri et La captive aux yeux clairs (deux des plus beaux westerns de tous les temps), la panoplie trappeurs virils-forêts splendides-jolie Indienne- a donné lieu à de très belles productions. Rappelant Jeremiah Johnson, cet avant-dernier western de Charlton Heston repose sur un tandem savoureux avec Brian Keith (Nevada Smith)… Les deux acteurs se retrouvent ainsi plus de 25 ans après Le sorcier du Rio Grande, qui était le tout premier western de Keith
Une belle histoire d'amour et d'amitié au pays des Pieds-Noirs, des Indiens Crow et des castors, avec de superbes décors enneigés (filmés dans le Parc  national de Grand Teton), la plupart des amateurs de westerns apprécièrent ce film
Un peu manichéen, il montre les Crows coopératifs, sympathisant avec les blancs, et les Pieds noirs comme cruels et prêts à scalper le premier venu.
Notons qu'il fut  produit par le propre fils de Charlton, Fraser, qui ré-emploiera son père dans les années 90 dans l'univers également enneigé d'ALASKA… mais cela ne nous regarde pas, car ce n'est pas un western ! LOL !