Tommy Lee Jones

(15-9-1946)
Tommy Lee Jones et le western, c'est une longue histoire d'amour, en tant qu'acteur et aussi en tant que réalisateur. Son dernier film, The Homesman, en compétition à Cannes, est un Pioneer movie, film en hommage aux pionniers américains.
Il en est le réalisateur, le scénariste et l'acteur principal… D'après le roman de Glendon Swarthout, auteur du roman qui inspira le dernier western de John Wayne en 1976, Le dernier des géants. Tommy Lee Jones a le projet de tourner un remake d'un autre fameux western de John Wayne des années 70 : Les cow-boys.
♥ Westerns ou films sur l'histoire des USA avec et/ou réalisés par Tommy Lee :
April Morning (1988) Lonesome Dove (1989) Les derniers pionniers (1995) U.S. Marshals (1998) de Stuart Baird : western contemporain…
Les disparues (2003) Lincoln (2012) de Steven Spielberg
The Homesman (2014) de et avec Tommy Lee Jones
♦ Nashville Lady (80), biographie de Loretta Lynn
The Last Show (2006)


---
Les disparues (The missing)
de Ron Howard (2003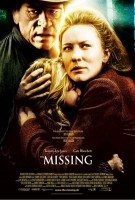 Musique de James Horner
1885 Nouveau Mexique. La fille d'une femme médecin est kidnappée par un Apache.
Avec Tommy Lee Jones, Cate Blanchett, Evan Rachel Wood, Jenna Boyd, Aaron Eckhart, Val Kilmer, Sergio Calderon, Eric Schweig, Steve Reevis, Simon Baker