JENNIFER HOLT


(1920-1997)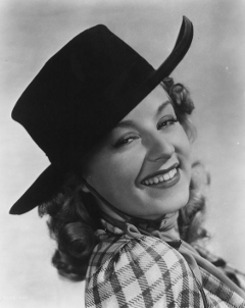 Fille de l'acteur Jack Holt et sœur de Tim Holt, elle joua dans des séries B des années 40, son premier western en 1941 est un Hopalong Cassidy :
1941 : Stick your guns
1942 : The Silver Bullet ; Deep in the heart of Texas ; Little Joe, the wrangler ; The old Chisholm trail
1943 : Tending tonight on the old Camp Ground ; Cheyenne roundup ; Raiders of San Joaquin ; Cowboys in Manhattan ; Frontier Law ; The lone star trail ; Raiders of Sunset Pass
1944 : Marshal of Gunsmoke ; Oklahoma Raiders ; Guns of the law ; Outlaw trail ; Riders of Santa Fe
1945 : The Navajo Trail ; Under Western skies ; Gun smoke ; Beyond the Pecos ; Renegades of the Rio Grande ; Song of Old Wyoming ; The lost trail ; Moon over Montana
1946 : Trigger fingers
1947 : Over the Santa Fe trails ; Buffalo Bill rides again ; Pioneer Justice ; Ghost town renegades ; Stage to Mesa City ; The fighting Vigilantes ; Shadow Valley ; Where the North Begins ; Trail of the Mounties
1948 : Tornado range ; The hawk of powder river ; Range Renegades ; The Tioga kid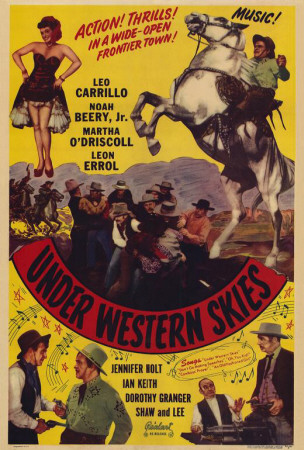 ---
Under western skies
de Jean Rarbrough (1945) **
Un spectacle itinérant arrive dans une petite ville de l'Arizona et se heurte à l'hostilité des citoyens. Ils choisissent de monter le spectacle dans le saloon, l'actrice principale a une liaison avec le professeur d'école et un mystérieux bandit masqué.
Avec Martha O'Driscoll, Noah Beery Jr., Leo Carillo, Leon Errol, Irving Bacon, Jennifer Holt, Nan Leslie.
Western musical (série B) de l'Universal, le premier western de Nan Leslie, qui en tournera 15 autres jusqu'en 1959. Un des 22 westerns de Leo Carillo, Californien qui joua souvent les latinos au cinéma.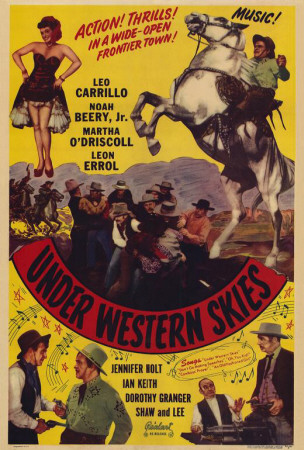 ---
The Tioga kid
de Ray Taylor (1948) *
Un Texas Ranger recherche un bandit appelé le Tioga Kid qui lui ressemble étrangement…
Avec Eddie Dean, Flash, Roscoe Ates, Jennifer Holt, Dennis Moore…
Remake du Driftin Kid de 1946. Western musical, c'est la dernière production de la PRC, avec le terne Eddie Dean en cowboy chantant, c'est aussi le dernier western de Jennifer Holt (sœur de Tim).