JACK ELAM

 (1920/2003)
Le Roi des seconds couteaux
Western est synonyme de Jack Elam : c'est le ROI des rois des seconds couteaux westerniens.
Jack Elam (né William Scott Elam) est un acteur de composition américain, très prolifique, il a tourné environs 200 films, téléfilms et séries, et essentiellement des westerns. Avec quelques têtes d'affiche dans les années 70. C'est un des seuls acteurs, comme Ben Johnson ou Slim Pickens, qui n'a jamais cessé d'en tourner, y compris quand le genre était moribond (années 80, 90), jusqu'à ce qu'il se retire du métier, en 1995.
C'est une tronche exceptionnelle qu'on n'oublie jamais : son regard, avec un oeil exhorbité, est particulier, il perdit son œil gauche dans un accident quand il était enfant. Il a interprété dans les films noirs et les westerns des crapules et mauvais garçons, mais sur le tard, et notamment dans des comédies, aussi de truculents vieillards
Ses westerns :
1947 : Mystery ranch
1950 : The sundowners
Le petit train du Far West
La vallée du solitaire
The Texan meets Calimity Jane
1951 : L'attaque de la malle-Poste . The Bushwackers.
1952 : L'Ange des maudits puis Au mépris des lois  et Montana Territory
Un ivrogne dans la prison du Train sifflera trois fois.
1953 : Tempête sur le Texas. Le voleur de Minuits…  Vaquero.
1954 : La grande Caravane. Chevauchée avec le diable.
Je suis un aventurier
La reine de la prairie
Vera Cruz
1955 : L'Homme qui n'a pas d'étoile et Un jeu risqué…et L'Homme de la plaine de Mann. Rintintin (
1956 : L'Homme de Nulle Part (1956). Le Trouillard Du Far West  et Tonnerre Sur l'Arizona
1957 : la série B : La poursuite fantastique – Règlements de comptes à OK Corral (57) suivi de Le survivant des monts lointains.
1958 : The gun runners.
1961 : El Perdido etLes Comancheros
1963 :  un bandit dans Quatre du Texas.
1966 : Rancho Bravo, Le ranch maudit.
1967 : La route de l'Ouest.
Le pistolero de la rivière rouge.
1968 : Les Cinq Hors-La-Loi… et Sonora, – Il était une fois dans l'Ouest
1969 : Ne tirez pas sur le shérif… The over-the-hill gang (69)
1970 : Cockeyed cowboys of Calico County.
Un beau salaud
Rio Lobo
1971 : Tueur malgré lui suivi de The last rebel et Un colt pour trois salopards
1973 : Pat Garrett et Billy Le Kid de Sam Peckinpah ; Le poney rouge.
1974 : Elam a le premier rôle A Knife for the ladies, un slasher-western. Et Six colts et un coffre.
1976 : The winds of autumn
… Pony express rider ; 
1977 : Grayeagle.
1978 : Hot Lead And Cold Feet
1979 : 
The apple dumpling Gang rides again…
Cactus Jack
1983 : Sacred Groung
1987 : Hawken's Breed
1990 : Big Bad John
1991 : The giant of Thunder Mountain
Et les téléfilms :
The slowest gun in the West (1960)
The over-the-hill gang (1969)
Cat Ballou (1971)
Le poney rouge (73)
Six colts et un coffre (1974)
Les nouvelles filles de Joshua Cabe (1976)
La conquête de l'Ouest (1977-78)
Lacy and the Mississippi Queen (1978)
The Sacketts (Duel à Santa Fé) (1979)
A travers les plaines sauvages (86)
Once upon a Texas train (1988)
Where the hell's that Gold (1988)
Bonanza : The Return (1993)
Bonanza : Under attack (1995)
Et les séries :
Années 50. Rin Tin Tin (1955)… The lone ranger (54-55)… FRONTIER (55)… Tales of Wells Fargo avec Dale Robertson… La grande caravane (57)… Zorro (58)… THE RESTLESS GUN (57-58)… TOMBSTONE TERRITORY (59)… THE TEXAN (59-60-58)…
Années 60. STAGECOACH WEST (60)…
Zane Grey Theater (57-60-61)… KLONDIKE (61)… GUNSLINGER (61)… LES AVENTURIERS DU FAR WEST (61)… THE REBEL (60-61)… L'HOMME à LA CARABINE (58 à 61)… OUTLAWS (61)… BRONCO (58-61)… Have gun – will travel (59-62)… Rawhide (62)… Lawman (58 à 62)
Cheyenne (61-62)… Laramie (62)…THE DAKOTAS (63)… DANIEL BOONE (65)… JESSE JAMES (65)… THE GUNS OF WILL SONNETT (67)… LES MYSTERES DE l'OUEST (67)… HONDO (67)… Cimarron (68)… Le grand Chaparral (68)… LES BANNIS (69)… LE RANCH L (69)
Années 70. Le Virginien (70)… Bonanza (61 et 70)…Gunsmoke (69 à 72).
Années 80-90. LE CAVALIER SOLITAIRE (88-90)
LUCKY LUKE (92) –LONESOME DOVE (94-95).
---
Dirty Dingus Magee (Un beau salaud) De Burt Kennedy (1970)


Un cow-boy (Frank Sinatra) est nommé shérif par la patronne d'une maison close, il va en profiter pour se venger d'un vieil ami (George Kennedy) qui vient de lui voler son argent…
Et Lois Nettleton, Jack Elam, Michele Carey, John Dehner, Henry Jones, Harry Carey Jr., Paul Fix, Willis Bouchey, Sheila Foster, Don Red Barry…

Comédie western produite et réalisée par Burt Kennedy, avec une belle affiche. Certains pensent que Frank Sinatra se serait sans doute spécialisé dans le western s'il n'avait eu une carrière de crooner. Les cinq westerns qu'il a tournés (Le brigand amoureux, Johnny Concho, Les trois sergents, Quatre du texas) ne laissent en fait pas un souvenir impérissable.
On peut adhérer, comme Ne tirez pas sur le shérif (autre comédie western de Burt Kennedy avec aussi Jack Elam, mais nettement plus réussie), le film a hélas bien vieilli et les gags sont souvent lourds et répétitifs. Certains sont néanmoins amusants (comme la coiffe indienne de Magee avec quatre plumes !), George Kennedy et Jack Elam sont, de tous les acteurs, manifestement les plus à l'aise dans le registre comique ; et Michele Carey se révèle une surprenante femme à poelle ! (lol)

---
A knife for the ladies de Larry G. Spangler (1974) 
Avec Jack Elam, Ruth Roman, Jeff Cooper, Gene Evans, Diana Ewing
Un meurtrier armé d'un couteau sévit dans la ville de Mescal, il s'en prend à des prostituées… Burns enquête
Jack Elam, le roi des seconds couteaux du western (dont la carrière s'étale sur six décennies !), en vedette dans un slasher western, ça vaut le détour !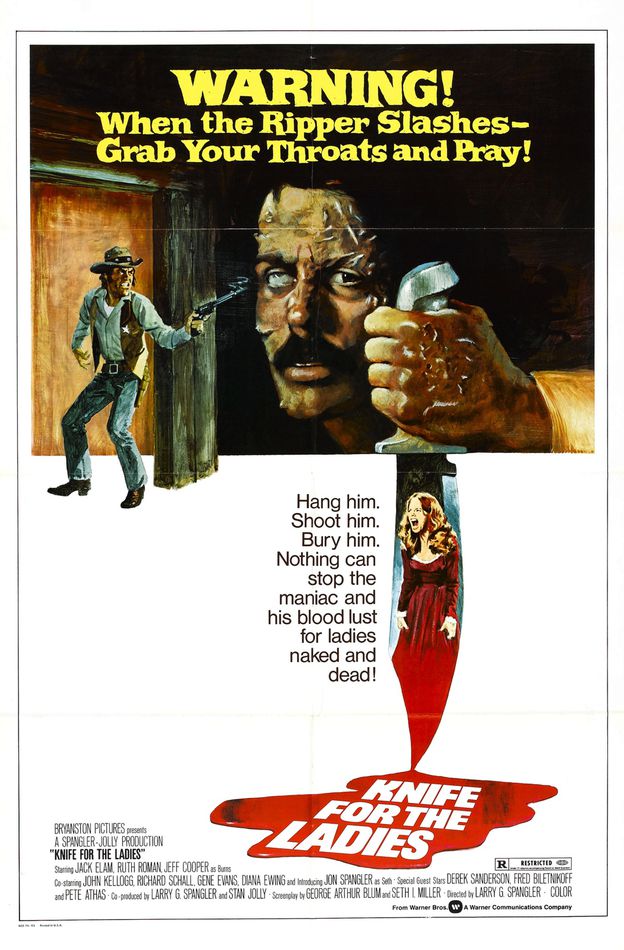 ---
CAT BALLOU
de Jerry Paris (1971)

Avec Jack Elam, Lesley Ann Warren, Tom Nardini, Bo Hopkins
Remake du western à succès Cat Ballou avec Jane Fonda, c'est le pilote de ce qui devait être une série. Un autre pilote intitulé aussi Cat Ballou, la même année, est tourné avec Forrest Tucker. Lesley Ann Warren et Jack Elam seront à nouveau réunis dans Les filles de Joshua Cabe, en 1972.