Buster Crabbe

(Larry 'Buster' Crabbe) (Larry Crabe)

(7-2-1908/23-4-1983)
Champion de natation rivalisant avec Johnny Weissmuller, il joua aussi Tarzan dans les années 30 avant d'apparaître dans les adaptations westerns de Zane Grey pour la Paramount (dans lesquelles débuta aussi… Randolph Scott), il fut aussi le héros de deux serials, un sur Billy le Kid, et un autre de 23 histoires sur Billy Carson,  puis héros de science-fiction pour Universal.
Ses westerns :
1933 : The thundering herd ; Man of the forest  ; To the last man
Nevada et Wanderer of the wasteland (1935)
1936 : Desert Gold ; The Arizona raiders ; Arizona Mahoney
Forlorn river (1937)
Colorado sunset (1939)
1941 : Billy the Kid wanted ; the kid's round-up
1942 : Billy the kid trapped ; Billy the Kid's smoking guns; Law and order ; Sheriff of Sage Valley ; The mysterious rider
1943 : The Kid rides again ; Fugitive of the plains; Western cyclone ; Panique au Far-West ; The renegade ; Blazing frontier ; Devil riders


1944 : Frontier outlaws ; Thundering gun slingers ; Valley of vengeance ; The drifter ; Fuzzy settles down ; Wild horse Phantom ; Oath of Vengeance
1945 : Lightning raiders ; His brother's ghost ; Shadows of death ; Gangster's den ; Stagecoach Outlaws ; Rustler's hideout ; Border Badmen ; Fighting Bill Carson ; Prairie rustlers
1946 : Gentlemen with guns ; Terrors on horseback ; Ghost of Hidden Valley ; Prairie Badmen ; Overland riders ; Outlaws of the Plains
Le dernier des Peaux-rouges (1947)
Gun brothers (1956)
The lawless eighties (1957)
Badman's country (1958)
Gunfighters in Abilene (1960)
1965 : Chasseur de primes ; Représailles en Arizona
---
Man of the forest
de Henry Hathaway (1933) ***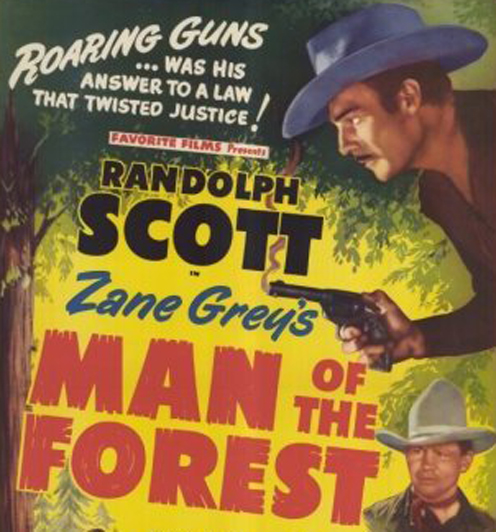 Beasley, qui convoite les terres de Gayner, projette de kidnapper sa fille. Mais Dale, au courant du plan, enlève lui-même la fille. Quand Gayner arrive pour libérer sa fille, Beasley le tue et fait passer Dale pour le tueur…
Avec Randolph Scott, Verna Hillie, Harry Carey, Barton McLane, Noah Berry, Buster Crabbe, Guinn Big Boy Williams, Tom London, Blanche Friderici.
Une des nombreuses séries B adaptatées par la Paramount de romans de Zane Grey, signés Hathaway et avec Randolph Scott.
———————————————————-
Représailles en Arizona (Arizona Raiders)
de William Witney (1965) ***

Le gang Quantrill est anéanti, deux de ses membres capturés acceptent d'intégrer les Arizona rangers…
Avec Audie Murphy, Michael Dante, Ben Cooper, Buster Crabbe, Gloria Talbott…
Un bon petit Audie Murphy avec Gloria Talbott.
---
The kid rides again


de Sam Newfield (1943) **

Serial des Billy le kid, 19 films furent tournés avec Buster Crabbe ou Bob Steele dans le rôle du sympathique bandit…Avec Buster Crabbe, Al 'Fuzzy' St. John, Iris Meredith, Glenn Strange, Charles King, I. Stanford Jolley, Ted Adams, Jim Mason, 'Snub' Pollard…
---
Shadows of death
de Sam Newfield (1945) *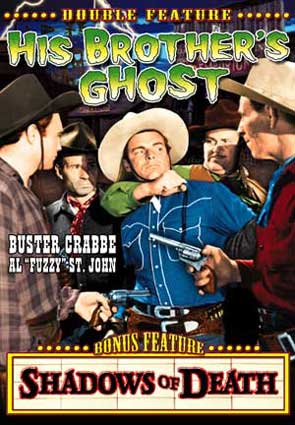 Avec Buster Crabbe, Al St. John, Dona Dax, Charles King, Eddie Hall…
Un des westerns d'un serial mettant en scène le personnage de Billy Carson joué par le champion de natation Buster Crabbe, grande vedette de l'époque.