7 hommes à abattre

(7 hommes restent à tuer) (Les sept condamnés) (Seven men from now)(
De Budd Boetticher
(56)
Un ex-shérif (Randolph Scott) traque les sept hommes responsables de la mort de sa femme lors d'un vol à la Wells Fargo.
Et avec Gail Russell, Lee Marvin, Walter Reed, John Larch, Don 'Red' Barry, Fred Graham, John Beradino, John Philips, Stuart Whitman, Pamela Duncan, Chet Brandenburg
Ne s'estimant pas assez libre avec les conditions que lui imposait l'Universal, Boetticher décide en 56 de se tourner vers des indépendants, il choisit la Batjac de John Wayne pour tourner ce western ; c'est Wayne qui devait jouer le rôle vedette, mais il était engagé sur La prisonnière du désert, et il conseilla alors à Boetticher d'embaucher Randolph Scott. Suivront six autres films, d'un cycle appelé 'Ranown', réalisés par Boetticher et produits par Scott -et avec lui-, avec Burt Kennedy au scénario (c'est son premier scénario de western), et des acteurs récurrents comme Karen Steele
Des histoires de vengeance, comme celui-ci, avec des budgets réduits, tournages souvent exclusivement en extérieurs, dans les Alabama Hills de Lone Pine, et dans quasiment tous un message sur les apparences sociales des hommes, comme chez John Ford (« L'habit ne fait pas le moine »). Ce premier western a le mérite de faire jouer des stars qui deviendront de grandes vedettes, comme Lee Marvin (
Cat Ballo
u) ou Stuart Whitman (
LE JOUR LE PLUS LONG
) qui jouera avec John Wayne dans
Les Comanchero
s. Il bénéficie aussi d'une belle photographie de William Clothier.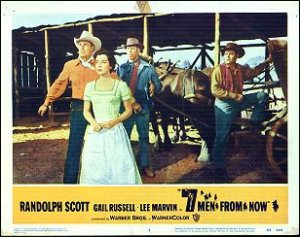 ---
Don 'Red' Barry (Donald Barry, Don Barry)
(11-1-1912/17-7-1980)
Donald Barry De Acosta était la vedette de football de son collège avant de devenir -comme le Duke- une star de western pour la Republic, avec le serial Adventures of Red Ryder, qui fut un grand succès en 1940
Le patron de la firme, Herbert J. Yates, pensait avoir son James Cagney : l'air teigneux et bagarreur et de petite taille comme lui. Barry alterne les rôles de cow-boys et de gangsters et a une courte période de gloire avec des têtes d'affiche dans les années 40 ; il n'aura plus que des seconds rôles dans les années 50, 60 et 70, notamment grâce à ses amis Burt Reynolds et le cinéaste Don Siegel… Il termina mal en 1980 : il tua sa jeune épouse en se suicidant d'une balle dans la tête
Il a à son palmarès une quantité impressionnante de westerns : Wyoming outlaw (1939), Days of Jesse James (1939), Adventures of Red Ryder, son premier grand rôle en 1940 ; One man's law, The Tulsa Kid, Frontier vengeance, Texas terrors, Wyoming wildcat, The Phantom cowboy, Two gun sheriff, Desert Bandit, Kansas cyclone, The Apache kid, Death Valley outlaws et A Missouri outlaw
Saga of death valley, Days of Jesse James.
Arizona Terrors, Stagecoach express, The cyclone Kid, The sombrero Kid, Jesse james, Jr. (42), Plainsman and the lady… Canyon City et California Joe… Bells of Rosarita (45), Border rangers (50), My outlaw brother (51), Jesse James' women (54), Sept hommes à abattre (56), L'Homme aux colts d'or (58), Buffalo Gun (61), Condamné à être pendu
les séries Have gun – will travel, Lawman, Le cheval de fer, Laredo, Le Virginien et The deputy, Gunsmoke, Colt .45, Cimarron, deux épisodes de Bonanza et Cheyenne, Rawhide, Laramie
Sur la piste des Apaches (1965), Quand parle la poudre (65), FORT BASTION NE REPOND PLUS (1966), Alvarez Kelly (66), puis Hostile guns (67)
Après Bandolero ! (1968), c'est Shalako (68),  The shakiest gun in the West (1968), Rio Lobo (1970), puis Un beau salaud (70), Cockeyed cowboys of Calico county (70), Le dernier train pour Frisco (1971), Junior Bonner, Le dernier bagarreur (1972), C'est arrivé entre midi et trois heures (1976), et Tête brûlée et pied tendre (1978).